Proactive delivery management to help you improve efficiency and safety of your fleet
The need to follow social distancing guidelines and demand for instant access to delivery status, together with driver skills shortage are putting fleet operators under pressure to boost efficiency and safety of their vehicles and drivers.
TranSend, our electronic proof of delivery (ePOD) and integrated route planning, cloud-optimised software helps transport and logistics operators reduce the cost, time and paper involved in managing deliveries and collections.
Our ePOD app gives you access to accurate, real-time delivery information, improving visibility and increasing efficiency for the full collection and delivery process:
Proactive supply chain delivery and collection management
TranSend ePOD provides complete visibility of routes and delivery status. It captures any events and exceptions as they occur and tracks driver compliance against the planned route. You can manage delivery issues as they arise through jeopardy alerts and predicted ETAs that use live traffic information to generate automated customer updates by email or SMS.
Increases income and improves customer service
Faster invoicing with real-time delivery confirmation. Using Android or iOS mobile devices, drivers can capture delivery/collection confirmation with signature and time. This is automatically updated in your back-office systems to allow same-day invoicing.
Record any shortages or damages using the scanning and photo capability to directly update the POD and generate customer receipts on site. This allows returns and replacements to be processed the same day, improving efficiencies at the depot, customer service and cash flow.
Why choose TranSend electronic proof of delivery software?
Saves time and money by reducing customer claims and providing self-service
Improves visibility and control with a single view of route and delivery performance
Automates paper processes through intelligent workflow for accurate delivery management
Manage the complete journey with ease:
Dynamic workflow

Provides your driver with clear step-by-step instructions specific for each delivery to support your unique business processes. Configure the workflow with ease for different delivery or collection process scenarios. This includes secure delivery of valuable goods, delivery asset management, unattended delivery, cash on delivery, frozen, chilled and ambient goods.
Accurate on/off load verification

Never miss an item during vehicle loading. Scan items as you load to check off against the route manifest. This ensures that all items have been loaded onto the correct vehicle and allows for verification of secure or controlled items such as drugs. At the depot, simply scan collections and non-deliveries off the vehicle. This helps you quickly identify returns to the warehouse, so you can process refunds timely and ensure damaged items are not returned to stock.
Vehicle and route tracking

Keep your customers up to date. Track your delivery with a map view of current vehicle location including historical route replay. For trailer management, you can also track trailers and vehicle hook-up and drop-off. In the back office, route compliance uses real-time location data captured by the PDA to compare the actual route taken against route plan, highlighting any exceptions.
Proactive ETA and customer communications

Effective communication to both customers and colleagues is essential for any delivery management solution. With TranSend ePOD, you can send email or sms to customers to confirm delivery slots, en-route and planned arrival times etc. It notifies the relevant department/individual when issues arise such as informing the transport office when a delivery window is going to be missed or highlighting to customer services when there has been a delivery issue.
Real-time visibility

We help you proactively manage issues as they arise. Our traffic-light system provides on-screen alerts to highlight exceptions to specified tolerances. The system will provide targeted exception alerts and notifications. You can generate reports and graphs using role-specific data groups and KPIs with ease. This helps you to review processes with full drill-down into detail for further investigation.
Recording delivery activity in real time will provide key delivery and route performance management information that will help us to restructure and create the most efficient and profitable routes. With better quality performance information, we can also identify commercial opportunities for expanding existing routes, where relevant.
Stephen Sweeney, Finance Director, Campbells Prime Meat Ltd
Cormar Carpets implements Civica TranSend proof of delivery software for improved visiblity and control
On-time delivery (OTD) has increased to 99.7% since the roll-out of TranSend ePOD
View case study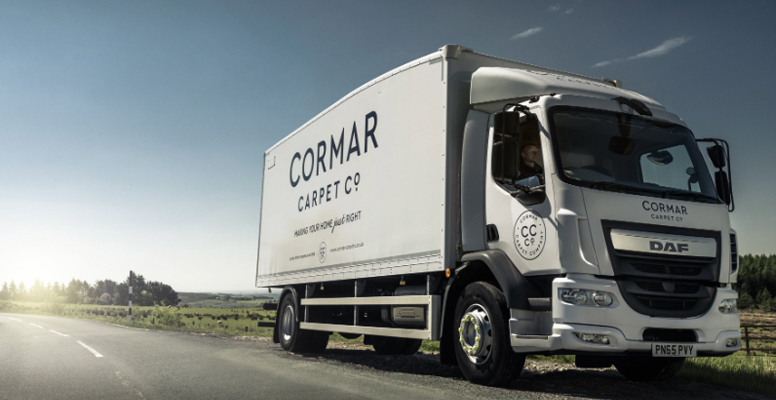 We have delivered TranSend ePOD for customers including
Find out more about how Civica can transform the way you work
You may also be interested in