Helping you focus on patient care and growing your practice, while we take care of your medical billing service
Partnering with Civica (formerly MBC) allows clinicians in the private sector to focus on their patients by effectively managing all aspects of the billing and payment collection required in medical practice. Our service is built on a solid foundation of dedicated account management, we put both the needs of the practice and your patients at the core of everything we do.
Our bespoke billing software caters to all your medical billing needs to help provide exceptional service delivery. It means that we can tailor our service to the needs of your practice, allowing you to prioritise the clinical relationship with your patient free from commercial concerns.
Using our service, consultants significantly streamline their billing process by improving cash flow and reduces outstanding debts. We have robust procedures that are proven to efficiently manage billing and minimise issues that can lead to delays in payment. Using our premium medical billing service, practitioners can get all the support they need to meet their medical billing needs.
With over 30 years' experience, we are amongst the top medical billing services in the United Kingdom and a trusted partner to more than 1,800 private consultants, groups, clinics and hospitals, delivering a bespoke, efficient and secure service.
Our billing service improves the patient experience by offering a range of simple and secure payment pathways.
This includes:
E-billing of private medical insurers and patients
24/7 payment collection via our card portal
Collection of payments pre and post treatment.
Collection on the day via our client self-pay module
Ability to settle multiple invoices at the same time.
---
---
Why choose Civica Medical Billing and Collection?
How do Civica Medical Billing and Collection achieve this?
Dedicated account management

Every practice is allocated their own dedicated account manager who is responsible for managing all aspects of the revenue cycle for the practice. By putting the practice at the centre of what we do has made us the preferred choice of the medical professional. Our 'intensive care' onboarding process ensures that we understand the nuances of your practice allowing us to work in partnership with you to deliver a seamless service to your patients. Our experienced account managers will ensure a smooth transition of your practice to Civica's Medical Billing and Collection service and provide continuity to your patients.
Minimise debt

For many practices our bad debt rate is as low as 0.3%. This is achieved through a combination of our expertise in account management alongside robust chase procedures. We provide the full range of payment pathways a modern practice needs, which leads to not only vastly improved cashflow but greatly reduced bad debts.

We are happy to take on any outstanding debt and have collected over £750 million for our clients.
Maximise billing revenue

We can increase your net income by up to 25% through our expertise in maximising your billing revenue. This is achieved by optimising the billing of your clinic/theatre data in line with the relevant coding rules and price tariffs that are applicable. We will also provide a benchmark of your fees. Many practices see a significant increase in revenue from increased patient footfall as their team is freed up to focus on new enquiries and improved communication with existing patients.

Where appropriate we will liaise with Insurers to obtain the appropriate contribution for complex procedures in both a pre and post operative situation.
24/7 access to your data

Our market leading dashboard reporting module provides 24/7 online access to a wide range of financial and management data relating to the practice. It combines an overview of the practice in a simple to read dashboard format covering all the major practice KPIs alongside a range of reporting at both the summary and granular level. Reporting available includes:

Billing and Payment analysis
Aged Debt reports
Bank Reconciliation reports
Patient Activity data
Referral, Location, Payment company and Fee analysis.

Reports can be run based on a range of criteria and the data can be displayed in a range of formats or exported in csv and excel format.
Efficient billing

We process over 500,000 invoices a year through our custom-built intuitive software designed specifically to provide secure efficient billing. We aim to bill the same day that we receive the clinic/theatre data which means there are no delays. This ensures we can chase the payment in a timely manner and any problems are quickly identified. As your dedicated billing service provider, billing and payment collection is supported throughout the year and not disrupted by secretarial absence for sickness or holiday.
Strengthen patient relationships

Our service ensures that you can protect the relationship between the practice and the patient. Enabling your team to focus purely on patient care without the complications of managing commercial concerns.
E-billing and 24/7 payment collection

Civica Medical Billing and Collection electronically bills insurance companies providing secure data transfer, confirmation of delivery and faster payments. Patients are invoiced by email and our invoices include a range of payment options including a link to our payment portal providing 24/7 collection capability.
Reconciled payments

All payments from insurance companies and patients are accurately reconciled on our system in a timely fashion ensuring patient shortfalls and co-payments are quickly identified and invoiced. Most major insurance companies will pay the practice directly, and any funds paid to Civica will be transferred to the practice bank account.
Cost effective

As our fees are charged on what we collect, rather than activity carried out, it means our costs are always aligned to your received income. By maximising your billing revenue, improving cash flow, and reducing bad debts our clients' practices achieve significant financial benefits that more than cover the cost of our service. Coupled with the fact our service fees are tax deductible means that we are extremely cost-effective.
For patients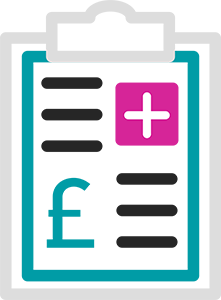 Click the button below to pay your medical invoice
By clicking 'SUBMIT' I understand and agree to you using my information to respond to my enquiry and to email me further marketing communications from Civica. You can unsubscribe or select your email preferences at any time through our Email Preference Centre.
Privacy – At Civica we take your privacy seriously. We collect data via our web site to operate effectively. We will use the information you provide to respond to your enquiry, and to email you further related marketing communications from Civica. You can read our full privacy notice here
Dr Andrew Gaya,
Consultant Clinical Oncologist
Very efficient and responsive service. They are a pleasure to deal with. My bad debt levels have fallen significantly. It's extremely reassuring knowing this aspect of the practice is being taken care of, leaving me more time to focus on patient care.
How Civica Medical Billing and Collection helped grow my private practice
Removing medical billing allows consultant cardiologist, Dr Dinos Missouris to focus on clinical care and improve cash flow.
Read more