The library on Platform 9¾ ...transforming library spaces for today's users
Library spaces are changing to adapt to the needs of a new generation of library users, those who are digitally literate, want information at all hours, and whose reading preferences are largely driven popular culture.
Civica's school libraries in Singapore are no exception and our hardworking team of librarians and library assistants are constantly looking at ways to transform their spaces, at a low cost, to be attractive and welcoming to students, to promote the love of reading, and lifelong learning. Here we have highlighted some excellent examples of how they have made this happen, simply through the power of creativity.
The library on Platform 9¾
How exciting would it be for a student to turn up at the school library only to step into the world of Harry Potter! Recently, students of St. Anthony's Canossian Primary School had a magical experience when their library transformed into Hogwarts, complete with Platform 9 ¾, floating candles, hat sorting activity and book promotions tied with a rewards system. Our librarian Hazlinah Abdullah undertook this wonderful initiative along with the teachers.

---
Books on the menu
De La Salle School recently whipped up a "Café" serving books. Students were treated to a different type of buffet, which instead of food, served books of various genres with a special spotlight on biographies. This was supported by materials from Civica's "Learn from life stories" reading programme, developed to introduce the students to the biography genre. The book Buffet at De La Salle School was planned and executed by our Library Assistant, Siti Radzian, along with the school's Library Coordinator, teachers and student volunteers. Students dressed up as waitstaff and some even stood outside the "library turned café" promoting their book buffet to the school community.
The participants were provided with a "menu" of books available, including summaries of biographies that were being promoted as part of the menu. They were also invited to read titles for at least for 2 minutes and complete a mini book review. Over 100 upper primary students participated in this event making it a great success story.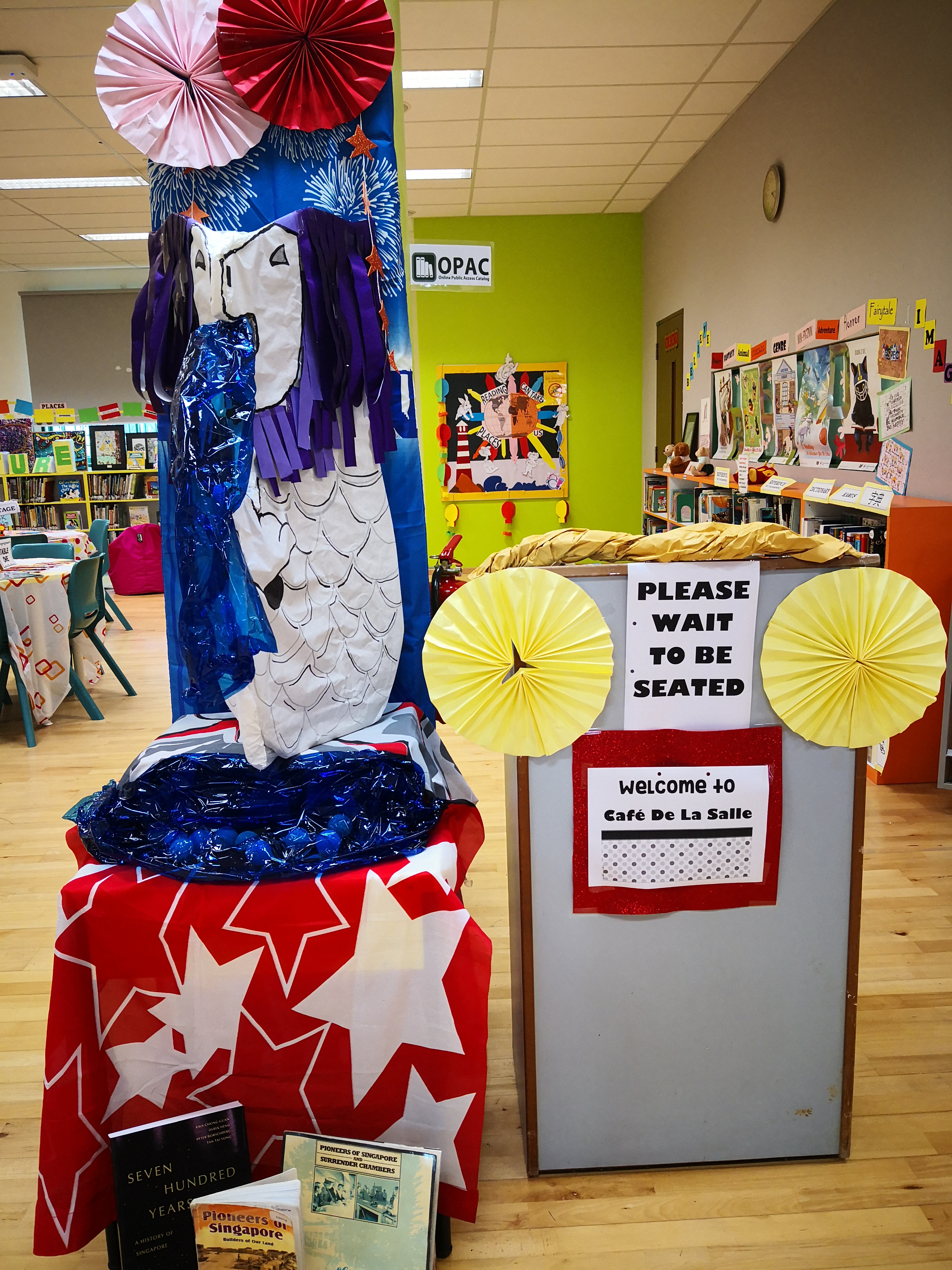 ---
Book-opoly!
Singapore's Edgefield Primary School has introduced "Book-opoly" Bulletin Board Challenge for the students since January this year. Book-opoly is an adaptation of the classic Monopoly game, with rules being similar too. Like in Monopoly, Book-opoly has students reading and following instructions at each landing. To make it interesting, the students get opportunities to collect mystery gifts at various points before proceeding to the next reading. The aim is to introduce students to different type of book genres and to give them an opportunity to explore and read books they may have never read before. The teachers and the school librarian, Eunice Tan, who came up with this idea believe that fun and engaging activities like Book-opoly will help cultivate sustainable reading culture among the school community.

---
Love your Library
Jurong West Primary School recently celebrated "Love your Library Month" with activities that encouraged participation from students and faculty alike. The school library was the heart of the month-long celebrations and resource promotion, which included an assembly book talk by the school librarian, Rasica Bte Hassan, and class library period activities. The English teachers also introduced their favourite age-appropriate books to the primary school students. Students enjoyed Library Jenga, where they had to answer library-related questions that were written on each Jenga block, with the winner being the one with the most blocks once the tower toppled over! They also enjoyed playing Dewey Decimal Bingo, jigsaw puzzles and book care card matching games.
There was even a book spine design contest. Students had to design a book spine complete with title (from a real or imagined book), author and the correct call number for their book. Three of the best designs were chosen and winners were given prizes. Both students and teachers had a lot of fun at the event. It was an opportunity for the school to come together to celebrate the library and to recognise the important role the library plays in the school.
---
Bonus transformation extra – the 24 hour SAFTI MI library
Because we love sharing stories of library success stories, we're also proud to highlight the library at the SAFTI Military Institute (SAFTI MI) which has now opened its doors permanently. That is, library users can visit the library at any time of day (or night!) to use the library and check out books. This has been made possible with the installation of a QR code based turnstile entrance, self-service kiosks and a mobile app. All users need to access the library is the latest Spydus mobile app, which now supports the use of QRCode for user identification!