A digital platform for today's housing sector
Civica's Executive Director Housing and Asset Management, Jeff Hewitt, looks at future housing trends and discusses the evolution of Civica's housing portfolio for tenants
What are your views on the future of digital in social housing today? Have you seen any particular trends?
Advances in technology and automation, the proliferation of devices and communications and the greater availability of data for a 24/7 on-demand public are changing everything for us all. One key area for housing organisations is the continued move to mobile: solutions which enable employees to visit, sometimes vulnerable, tenants in their homes and then collect, transfer, access and update information directly from a mobile device straight to a back-end housing solution inherently within the system (rather than via any secondary software which then has to synchronise.) This information at the fingertips will only improve customer experience, minimise errors and boost security and efficiencies.
The second trend, of course, is self-service; our customers are wanting more and more sophisticated and instant engagement with tenants. For example, our web-based Cx Housing product is fully integrated with Twitter, allowing housing associations to quickly notify tenants of emergency situations such as flooding in their area. The majority of citizens now use the internet via a mobile device and solutions must be delivered in a format that citizens find easy to access and use – coming up with these types of solutions is what will ultimately help organisations engage more effectively with their customers and tenants.
How have Civica's Housing solutions evolved to meet these changing needs?
Looking back at the housing management systems that we delivered in the past, they were mainly focused on managing properties and rent collection from tenants. The real revolution in the last decade has been the move from a property-centric approach to a much more customer-centric view. Therefore we offer products today which are wholly customer-focused, allowing our partners in housing associations to have a true single-view of all tenant interactions and the ability to communicate in the most effective manner. It's all about quality of service delivery; today's tenants are much more likely to vote with their feet or take to social media to put pressure on providers to deliver an excellent service. This is now evolving further into systems that are truly digital, offering a single application that can interact via mobile, face-to-face, online and in the office with back office and customer facing employees; automating communications, delivering efficiencies and driving productivity.
How does the recent integration with Abritas strengthen your position within the housing sector?
Our traditional position for solutions in the housing sector has focused on citizens already receiving social housing services, so predominantly existing tenants and managing housing tenancy accounts. Our integration with Abritas now means we've incorporated many pre-tenancy services such as housing needs and options and homelessness issues – and ensure these flow through to our housing management solution. The integration with Abritas now enables us to show the complete journey of a citizen making contact with an organisation, starting at the initial engagement rather than the contractual engagement. This is a key part of Civica's digital strategy, offering systems that can help citizens access a broad range of information, in the way that best suits them, and then make informed decisions about the services they wish to access.
How does this make Civica different?
Our portfolio of key housing products – Abritas Housing, Cx, Servitor Repairs Management and Keystone Asset Management – means we hold a unique position in the market with the ability to provide a full end-to-end service. Integrated CRM, housing and asset management technology allows housing managers and directors to have that single-view of both citizens and properties within an organisation. It's also important that rather than building add-on products, such as an asset management tool for example, we've gone to the market to look for the best products and made strategic acquisitions to bring together a full integrated solution. We've brought in their natural synergies and industry knowledge which results in a far superior service for our customers. Beyond this, the company also provides a broader capability ranging from IT managed services to business process services which mean we can respond to evolving customer needs for technology-based transformation.
What's your vision for the future of Civica Housing?
We've invested heavily over the past few years in building our housing proposition, both via acquisition and product development, demonstrating our huge commitment to the social housing market. Our vision is to work with our 380-plus customers to evolve our products and services to meet their future development needs. Today's social housing tenants demand the same digital and mobile-focussed services they receive from their bank or online retailers so the next wave of development will be for tenancy and contractual relationships to move fully digital – that's where we see Civica Housing moving forward. Digital means much more for Civica than just online, it encompasses a complete platform that allows communication in the way that tenants want and facilitates flexible digital data collection and interactions via agile working and communications. We're also looking at the huge issue of rent collection and developing innovative and mobile payment mechanisms, such as our new CivicaPay product for the housing sector.
What do you most enjoy about working in the housing industry?
The sector is never dull and constantly changing! Social housing sits squarely between the public and private sectors which allows for great innovation. I also value working in an industry with a strong social conscience and therefore any innovation or commercial avenues explored will always be based around making lives better for citizens. All of our customers are at the sharp end of delivering services to people and communities, and if together we do a great job through technology and automation, then it really does make a difference to people's lives and for those whose serve them.
You've been part of Civica for 15 years – what was your journey like to get where you are?
I actually joined Civica from the corporate banking sector and I've never looked back. The company makes a considerable investment in supporting and developing our people and values, including building a team of inspirational leaders. I've worked across various departments and it's been a very enjoyable journey, made all the better by the people who work here and our distinctive culture which really does set the company apart. There's always innovation and room to grow at Civica, as well as a truly collaborative spirit, both internally and with our customers around the globe.

This article originally appeared in Housing Technology magazine. Click here to read the latest edition.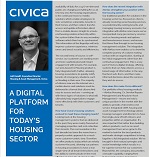 © 2017 The Intelligent Business Company, publisher of Housing Technology magazine