Teaching tech employment skills to the next generation
Civica hosts workshop for school pupils in Kent in partnership with West Kent Housing Association
A team from Civica visited Orchard Academy School in Swanley this April to give a series of talks to Year 10 students on tech careers and the world of work.
The visit was part of Civica's Social Value Programme with West Kent Housing Association, a joint venture to support development, education and careers advice in the local community.
Laura Kennard,
Programme Director in Civica's housing team
We aimed to put together a session which would really add value to the young people as they consider their future career plans.
Laura was joined by Cx Implementation Consultant Jimmy Murphy, Commercial Associate Easha Alam and two Civica Apprentice Project Managers Charlotte Smith and Connor Whitmore, to talk to students studying IT, Computer Science and Finance at GCSE level. They highlighted the different routes into a tech career and how public software is vital to peoples' everyday lives.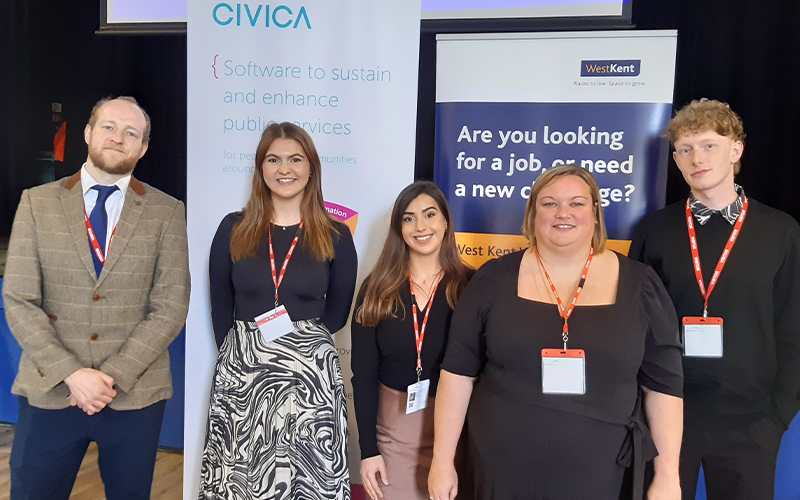 The Civica team (from l-r): Jimmy Murphy, Charlotte Smith, Easha Alam, Laura Kennard and Connor Whitmore
The team also helped students to understand both the technical and soft skills needed in work as well as things to look out for in a good employer such as Investors in People and charitable work. They also discussed the exciting opportunities to work with emerging technology, mobile and cloud as well as topics such as phishing and cyber security.
Laura continued: "Going into school to talk to these students really showed it's so important to demonstrate the different ways into a tech career – it's not just about being technical and if you're passionate about social change, public sector tech is the perfect career. Soft skills and critical thinking skills are crucial too. It's not just what you put on paper but what you do with it. The pupils asked great questions and were very engaged."
Jimmy added: "Social value work through Civica is important to remind us of the role we play in public services and community support. Engaging students with careers information about software is crucial to keep driving innovation forward. What I enjoyed most was the chance to dispel some myths and out-dated ideas around software career paths!"
Apprentice Charlotte said the day was important because when she was at school, she was not exposed to information about the wide variety of jobs available. "Talking to the students about our different backgrounds and experience showed them that jobs in tech are accessible to everyone if you put in the work.
"I enjoyed the day because the students really engaged with us and hopefully it will help some of them realise that there are many different routes into a career in tech to suit them and their goals."
Barbara Home,
Executive Director for Strategic Programmes
at West Kent Housing Association
We are thrilled to see this project coming together with Civica to benefit ambitious young people across Kent. We are working closely with Civica on implementing a new housing solution at West Kent that will modernise the services we provide to our residents and streamline the way our teams work together. Social value is a crucial part of our work together and is at the core of our strategy and values. Providing opportunities for students to access training and career advice is a brilliant way to enable the next generation to reach their full potential, wherever their career may grow.
To continue the programme, two placement students will spend a week at Civica's Southbank hub, to learn more about technology infrastructure, coding and software development.