"Pride is all about speaking up"
This Pride month, Anatalia van der Velde talks about the issue of belonging as a bisexual and how to be proud of loving who we love
As a cisgender bisexual woman, I tend to fly under the radar, with most people surprised to find that I'm not heterosexual.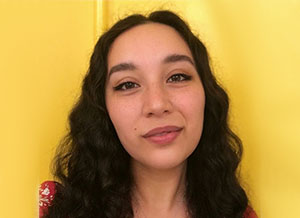 I'm married to the love of my life, who is a man. It doesn't mean that I'm 'not bisexual anymore' or that I 'chose a side', but when my sexuality comes up in conversation the response is often shock or confusion, with people asking for clarity about my husband's gender and sexuality, or people trying to invalidate my bisexuality by telling me that I'm 'basically straight now'.
It can put me in a position where I feel anxious about attending or participating in events celebrating the queer community (such as Pride!) I was even anxious about writing this piece, as past experiences outside Civica have shown me that my participation might be seen as taking a platform for speech away from others who have 'more validity' to speak on these topics, given that I am someone who often benefits from heterosexual privilege due to others' assumptions about my sexuality. I expressed that anxiety to one of my colleagues, and she encouraged me to speak up. Isn't that what Pride is all about?
I can tell you some sobering statistics about being bisexual. We have higher rates of depression, anxiety, substance dependence, and suicidal tendencies than either straight or gay people. The statistics for bisexual women in particular are shocking – here in Australia, we have an increased rate of being the victims of domestic violence compared to every other female demographic. There are so many things that lead to increased rates of stress and general negative influences for bisexual people, and not many support systems specifically aimed at targeting these things.
Part of the problem comes from feeling like we don't belong in either the straight or gay community. On one hand, we're definitely not heterosexual – but on the other hand, if we end up with a partner of the opposite gender, our identity as members of the queer community is essentially erased. There is a distinct sense of lack of belonging in either community, leaving many of us feeling adrift, invisible or unsupported.
One of the core tenets of Pride is that love is love – we fight for the right to be proud of loving who we love, the freedom to express ourselves without shame. Bisexual people aren't defined by the genders of our partners, but by the fact that we have the capacity and fluidity to love people of multiple genders, be they the same or different to our own. I fell in love, and it happened to be with a man, and my love for him doesn't make my own identity as a member of the LGBTQIA+ community any less valid.
Invisibility and discrimination are some of the most subversive and harmful techniques employed to keep heteronormativity alive in society. Limiting or dismissing bisexuality (or any of the lesser-known sexualities or gender identities, for that matter) just serves to reinforce the gay/straight divide, which prevents us all from fully celebrating the entire range of human sexuality and gender.
I joined Civica last year, shortly before International Day Against Homophobia, Biphobia and Transphobia (IDAHOBIT), and helping one of my executives with some communications about IDAHOBIT was one of my first tasks. It left me with a really positive feeling, seeing that the company cared so much about ensuring that people here felt seen and respected across the broad and beautiful spectrum of identities we have here.
And that initial impression has been reinforced again and again over my time here – Civica supports me and supports others like me. I'm proud to be bisexual, and proud to work at Civica.