The C My Trees App helps to better understand your carbon footprint and suggests tangible measures you can implement on your sites, home, or school environment.
The App provides a real-time dashboard to the carbon stored in your trees and allows you to work toward a zero footprint for you, your family, your business, organisation or corporation by supporting existing trees, planting more trees and measuring their CO2 uptake and ever-increasing carbon sequestration.
Download the app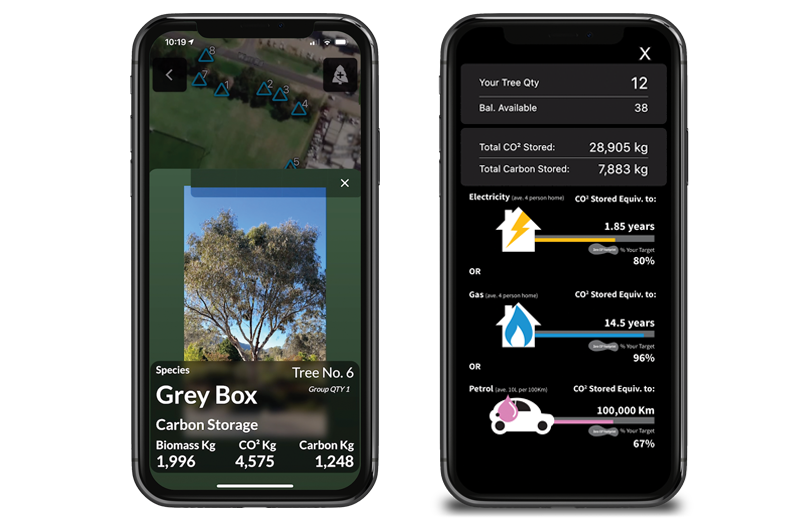 C My Trees App enables you to:
Calculate the carbon stored in your trees
Use the C My Trees app to calculate the carbon stored in your existing trees over time, as well as any new trees you plant as your personal offsets. You can literally see your trees and their storage, regardless of whether they are planted at home, work or any remote location or as part of any tree planting program you may support or participate in.
Set targets to offset your carbon footprint
A first step to action on climate change is understanding your carbon footprint. The C My Trees app lets you calculate your carbon footprint for the big areas of global emissions such as electricity, gas and transport fuels. With the app you can easily calculate your footprint and set your own targets for offsetting the emissions your activities, home or business create.
Measure your path to a zero footprint
Use the C My Trees app to measure your trajectory toward a carbon neutral impact on the world and its environment. See the real value of the mature trees you are sustaining and the huge volumes of carbon they are storing, whilst also seeing the increases in carbon storage of the new plantings you undertake or support, regardless of geographical location.
Examine & share your carbon achievements
Challenge yourself, family, school, business and others to reduce and offset their carbon footprint and see in real time how supporting and planting trees is one of the greatest climate mitigation tools we have. Plus learn how trees not only reduce impacts of emissions but also provide benefits to amenity, habitat and biodiversity - and so much more!
Businesses

Allows you to calculate the carbon stored in your trees or those you plant elsewhere. It helps you put in place tangible measures for offsetting that footprint by recording carbon stored in existing trees and planting trees at any location. Through our real-time dashboard, you can view the carbon stored in your trees, and manage your footprint by planting more trees and measuring their CO2 uptake and ever- increasing carbon sequestration. Implement more sustainable practices for your business, facility, or site, by working towards a zero carbon footprint.
Individuals

The app is free for personal use. You can plot and view the carbon stored in up to 50 of your existing trees to better understand their value and see how they also take up more carbon every year, helping you meet additional targets you set for yourself and family. It also allows you to build your tree offset portfolio of existing and new trees over time and see each tree and track the carbon stored, regardless of the tree's size or where it is located.

C My Trees also allows you to monitor up to 160 trees you plant at any location to meet your global goal. These may be trees planted at your home, school, business, or at other locations that are part of community tree planting or offset programmes. You can plant trees of any species or pot size at any location, then plot and see them at any time. Use the app to measure tree growth over time and their carbon storage to help you offset your consumption and emissions.
Educational Institutions

The C My Trees app can be used for educational purposes by accessing an inventory of trees at your school that can be created by ArborSafe Australia. Once trees are assessed, the app can access the tree data and present an array of subject matter from the carbon stored to offsets for energy under various metrics.

Students can use C My Trees to examine the school's tree inventory data via interactive mapping and view the carbon stored by tree or whole of school treescape. They can study how trees take up CO2 and store it as carbon within the wood structure and use C My Trees to examine the energy they, their family, and the school uses, and how many trees it takes to offset energy consumption.
Contact an expert to discuss your tree management needs