Simplifies disaster management
Latest News – The NSW Office of Emergency Management and Civica have been working together to streamline the claims process for NSW bushfire and flood affected councils using the new Recover portal, read more…
What is Recover?
Recover is an industry-leading disaster management system that supports local and state government recovery in accordance with the Disaster Recovery Funding Arrangements (DRFA). We empower organisations to accurately record and demonstrate the restoration process of essential public assets
Our robust solution allows organisations to capture comprehensive data to assist with the claims process. Accurate event damage estimates ensure your organisation can prove the full extent of deterioration or loss of public assets.
Why use Recover?
Recover enables inspectors to collect all damage site information at the site using a mobile device. Using Recover provides a rapid and systematic approach to collate, report and manage an entire disaster event. Other key benefits include:
Quick installation, easy setup with minimal staff training required
Estimation of the cost of each damage using the damage estimation tools
Visual representation of damage sites using Google Maps and GIS Chainage Point Data
Centralised and secure repository for all event data including multiple images for each damage site
Reduced costs (saving hours of office data entry)
Output to standard forms for application of recovery funding
Key Features:
Works with web and android smartphones and tablets
Allows easy management of Damages, Emergent Works and Restoration Works
User definable reporting with both simple and complex querying
Electronic document and image embedment in database
Images stamped with date / time and coordinates
Simple integration with MS Excel® and MS Word®
Automated version updates
Allows integration with other corporate systems
Help Desk and on-site support from Civica Representatives
Report damage locations using Google® maps (street /satellite views)
Microsoft .NET® application with SQL Server Database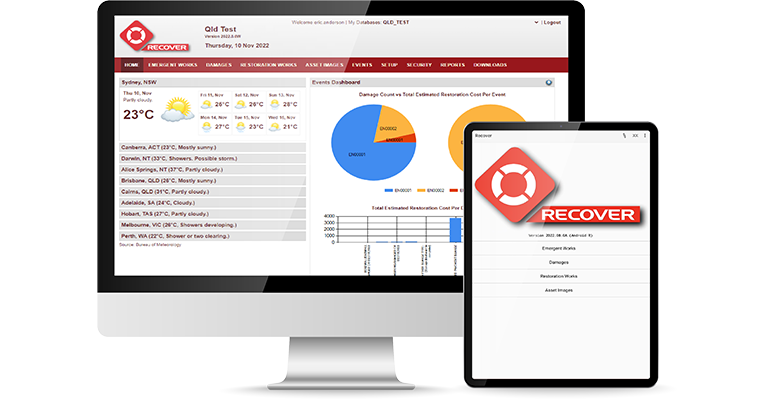 Why choose Recover to manage disaster restorations?
1.13B in total damaged claimed in NSW and QLD since 2015
Remove local data storage burden using our cloud servers
Accurately manage restored assets with GPS data collected from mobile devices
You may also be interested in