Reflect makes recording inspections and maintenance work easy, fast and accurate.
Reflect is the industry-leading inspection and maintenance management solution, supporting local and state governments for over 20 years. We offer organisations innovative features and customisations to achieve sustainable asset service delivery. The versatile and user focused design provides easy and detailed maintenance activity recording and planning. Asset managers and maintenance planners can harness this data to analyse expenditure, programming and service delivery outcomes.
What assets can I manage with Reflect?
The versatility of Reflect allows for highly configurable requests, incidents, inspection, defect and activity modules. The application of the software is limitless with respect to the range and type of assets your organisation is responsible for including but not limited to:
Regional, Local Rural and Urban Roads
Footpaths, Walking tracks and Cycle-ways
Parks and Reserves
Highways and Freeways
Significant Trees and Vegetation Management
Bridges, Culverts and Tunnels
Graffiti and Vandalism Management
Noxious Weed monitoring and control
Storm Water and Sewerage Systems
Airports and Aerodromes
Car Parks and Public Spaces
Rest Areas and Reserves
Boat Ramps and Waterway Facilities
Levee Systems and Sale Yards
The reflect software is fully configurable to meet the requirements of all organisations regardless of size. Our customers range from rural councils to state authorities which each have their own personalised solution – existing policies, procedures, OHS and risk management.
Key features include:
Comprehensive inspection scheduling and monitoring
Simple mapping interface with GPS for maintenance crews and inspectors
Microsoft .NET® application with SQL Mobile or SQL Server Database
Works with Windows XP®, 7, 8, 10 and Android devices
The Web Portal works on all current Web Browsers
User Definable Reporting with both simple and complex querying
Utilises existing mapped layers of council assets (mapinfo® or esri®)
Digital images and documents are stored within the Reflect database (including metadata)
Simple integration and reporting with MS Excel® and MS Word®
Integration with GIS, Financial, Request and Asset Management systems
View recorded data using Google Map® , Google Satellite® and Google StreetView®
Comprehensive Help Desk support from Civica representatives and site support when required
Recording meaningful data is an important function to defining asset delivery needs. Reflect enables organisations to record maintenance activities through iOS and Android devices. GPS and chainage data are used in the field, to determine which assets are being serviced.
Reflect extracts data into business intelligence tools such as Microsoft Excel, Word and PowerBI making decision making easy. Through our modules, you can forecast for maintenance expenditure, work programming, defect rectification and service delivery using historical data.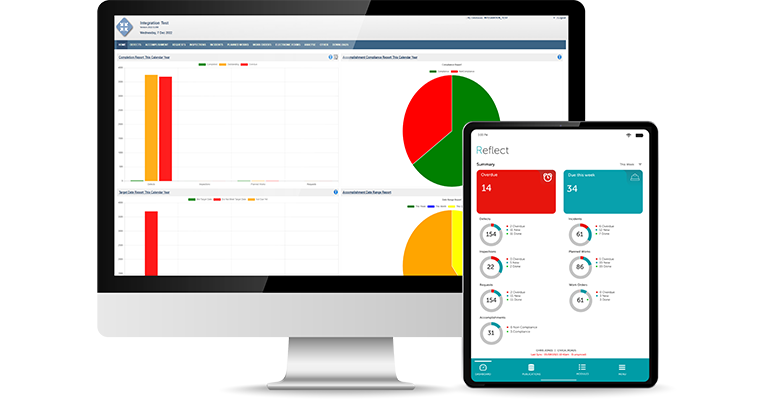 Why Reflect can support your organisation
135+ Local government organisations across NSW, QLD, VIC, and TAS
SaaS cloud solution accessible anywhere, anytime
Highly configurable – personalised solution