One platform to boost productivity by 40% & accelerate automation
Cx Regulatory Services software allows public protection teams to deliver responsive services. It's flexible design allows you to adapt to legislative demands with ease. With case management at its core, all regulatory services tasks can be managed using one platform. You will cut out paper processes, reduce administration and boost productivity up to 40% by streamlining applications and inspections.
Using cloud software, you can quickly mobilise your team to work from any location, using any mobile device. Officers will be more productive with the ability to view, respond or update case information in the community.
It's great for citizens too. It simplifies customer communications across multiple channels. You can personalise communications using their preferred method of contact, making customer communications easy. The Cx Citizen Portal allows users to self-serve which increases citizen engagement while reducing administrative tasks.
With GIS embedded, our Cx Spatial Dashboard empowers teams to work smarter to quickly identify, manage and respond to patterns of behaviour i.e. fly-tipping or anti-social behaviour.
The real value of this new partnership is people will be able to access the services they need quickly and easily – helping them live independently at home. The new platform will help the HEART partnership deliver improved services both now and in the future, while streamlining our processes and workflow through better integration and automation."
Becky Hale, Assistant Director, People, Warwickshire County Council on behalf of the HEART Board
Regulatory Services with Cx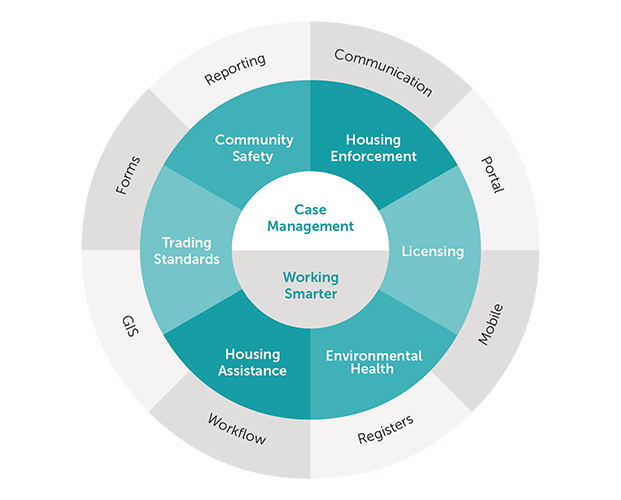 Seven digital trends changing regulatory services in 2021 and beyond
Civica's Martin Bradbury looks at what the future holds for local government and how COVID-19 has changed how councils engage with citizens
Learn more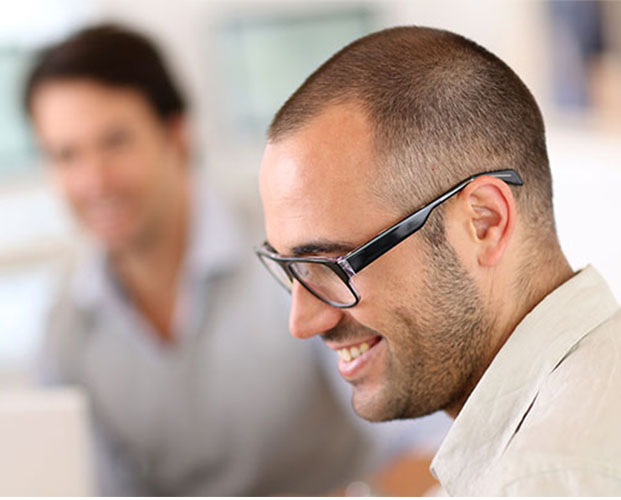 Why choose Cx Regulatory Services
Provides intelligence-led insight to accelerate response times
Mobilises your workforce and increases channel shift
Automates processes to save time and provide better community services
Key benefits of Cx Regulatory Services:
Empowers teams to work from any location
Mobilises your workforce while reducing admin and boosting productivity up to 40%
Accelerates channel shift to deliver time and cost savings
Automates processes and minimises training requirements
Improves data accuracy and accelerates case resolution times
Increases customer satisfaction and engagement with faster response times
Delivers in-depth data insight to help you optimise business performance.
We've enjoyed our long-term relationship with Civica. The support, experience and expertise offered by them is invaluable.

Their people really understand our business needs and methods; in fact many of them are former practitioners in our fields. Using their knowledge enables them to work with us as part of our team and supports us to provide an efficient and responsive service to our customers."
Kevin Davies, Public Protection ICT Systems Manager, Torfaen County Borough Council
Cx community safety

Delivering intelligence-led insight and analytics to improve response times and safeguard your community from Anti-Social Behaviour incidents

Cx Community Safety, our cloud-optimised software, supports local authorities to manage ASB and community issues effectively. Using cloud and automation technology, it accelerates response times and delivers significant time and cost savings.

It provides a holistic case overview to help your ASB team understand the full impact of incidents. Cx's intelligent case creation mechanism automatically detects similar cases within the system, prompting your officer to decide whether to append new incidents to an existing case or create a brand new case. This reduces the likelihood of data duplication and helps you make informed decisions accurately and efficiently. Its intelligent search capability, coupled with its advanced case data display supports contact centres to search and access case records quickly to improve response times.

Cx Community Safety supports you to simplify case prioritisation depending on type and severity so you can work more efficiently. Its unique workflow generates a bespoke task list for each case, which is automatically assigned to the most appropriate officer to ensure a timely response.

Top reasons to choose Cx Community Safety:

Provides a holistic case overview to help you make informed decisions and reach case outcomes with confidence
Mobilises your workforce to boost productivity and improve response times
Provides customisable alerts to help you increase officer safety
Increases efficiency and accuracy with unique automatic task assignment
Cx licensing

Modernising licensing management, driving operational efficiencies and delivering improved services

Cx Licensing, our cloud-optimised software, transforms licensing management for your licensing team and your citizens. Cx provides 24/7 real-time access to help you optimise workforce productivity and increase channel shift. It provides in-depth data insight and analytics, helping you to accelerate response times and make informed decisions with confidence.

You can manage all licence types with Cx Licensing. It futureproofs your processes to increase productivity and eases the burden of high volumes of applications for your team during peak periods or when there is legislative change.

Top reasons to choose Cx Licensing

Supports all licence types, including Animal Welfare Regulations introduced on the 1st October 2018
Mobilises your workforce to increase efficiency
Automates document generation and task assignments to save time
Secured customer portal option delivers 24/7 citizen self-service
Accelerates response times and increases customer satisfaction

Cx Licensing provides field officers with direct access to Cx, so all actions carried out away from the office results in licence records being updated immediately. This eliminates the need to re-key data, improving accuracy and response times.
Cx trading standards

Streamlining and prioritising service delivery to protect consumers and safeguard businesses

Cx Trading Standards, our cloud-optimised software, supports you to manage business referrals and notifications effectively to help you safeguard citizens and communities. Intelligent and data-driven, it delivers a holistic overview of all records associated to each case to help you monitor businesses effectively. These records include

Referrals and notifications
Registrations, approvals and membership association such as quality assurance schemes
All records associated with the business including people, addresses, vehicles and websites

Designed specifically for Trading Standards authorities, this software simplifies invoicing and budgeting so your resources can focus on chargeable work such as primary authority and business advice to help you increase revenue generation.

Cx Trading Standards facilitates collaboration with key stakeholders to help tackle unfair trading, so local authorities can better support communities and protect vulnerable consumers and citizens. Multiple customisable alerts can be set up on all associated records based on varying severity and criteria, prompting appropriate precautions to be taken prior to contact to improve officer preparedness and safety.

Top reasons to choose Cx Trading Standards:

Helps to increase revenue generation
Simplifies reporting and improves budgeting
Mobilises your workforce to boost productivity
Promotes channel shift to increase customer satisfaction
Supports local practices, helping you adhere to legislative requirements
Cx environmental health

Simplifying complaints, requests and inspections management to improve public health and food safety

Cx Environmental Health, our cloud-optimised software, simplifies service demand and visit management, supporting you to deliver better, more responsive services. It mobilises your environmental health team and reduces administration, so you can respond in a timely manner and create efficiency savings.

Designed specifically for Environmental Health authorities, you can manage any type of service demands, e.g. food hygiene, noise complaints, accidents and infectious diseases. It also futureproofs your process and simplifies data return reporting. These reports include LAEMS, FHRS, PWS, LAE1.

Top reasons to choose Cx Environmental Health:

Helps to increase revenue generation
Simplifies reporting to reduce administration and improves response times
Mobilises your workforce to boost productivity
Promotes channel shift to increase customer satisfaction
Supports local practices, helping you adhere to legislative requirements
Cx housing assistance

Supporting private sector housing teams to make informed decisions and reach outcomes consistently, and with confidence

Cx Housing Assistance, our cloud-optimised software, helps you simplify workload prioritisation and guide your team to reach outcomes via the most appropriate route. It supports you to improve customer engagement by connecting with residents via their preferred methods of communication.

Designed for the private housing sector, Cx Housing Assistance provides excellent process management capabilities and support your team to carry out eligibility assessments effectively. It allows managers to define annual budgets and provides easy access to critical metrics such as cost of service to help you identify areas of improvements

Top reasons to choose Cx Housing Assistance:

Provides intuitive data entry procedures
Accelerates application processing to increase efficiency
Reduces application waiting time for citizens
Automates administrative tasks to save time
Increases engagement with residents
Simplifies tasks prioritisation to reach outcomes faster, and with confidence
Cx housing enforcement

Allowing you to quickly respond to complaints and perform inspections

Cx Housing Enforcement allows teams to work remotely with fast access to the latest information. It assists you to manage all housing enforcement issues from Houses in Multiple Occupation (HMO) licensing, private rented property complaints to enforcement of housing standards. Our cloud-optimised software helps you to manage all residents' enquiries, complaints or service requests.

Top reasons to choose Cx Housing Enforcement:

Respond to issues in the community quickly with the ability to work remotely
Reach outcomes faster with automated case allocation and fast data capture
Save valuable time by automating communications
Communicate to your residents using their preferred method
Triage complaints to prioritise those in need
Maintain service level agreements and deliver case outcomes on time
Monitor and maintain risk by capturing and calculating risk inspections
Free up time by automating your standard returns.
Find out more about how Civica can transform the way you work
You may also be interested in