Authority Enterprise Suite
An enterprise wide software solution built for local government helps authorities transform customer engagement and streamline service delivery.
Download brochure

The foundation of your digital transformation journey
Authority 7 is an enterprise-wide solution built for local government that helps transform customer engagement, streamline service delivery, and to achieve operational efficiencies.
The landscape for local governments is constantly changing. Local governments are expected to "do more with less" for their communities and citizens while managing ever changing legislative demands.
Authority Enterprise Suite is built on a corporate enterprise information system approach specifically designed for local governments. Authority applications provide 'a single solution from a single vendor. Our integration layer eliminates double entry of data and drives efficiencies for users.
Data can be shared and updated in real time via the easy to navigate user interface and mobile applications. Authority creates operational efficiencies and facilitates optimal support services that local authorities can leverage to serve their communities.
Authority 7 brings you a powerful combination of technology and experienced local government experts to deliver operational efficiencies.
Why choose Authority Enterprise Suite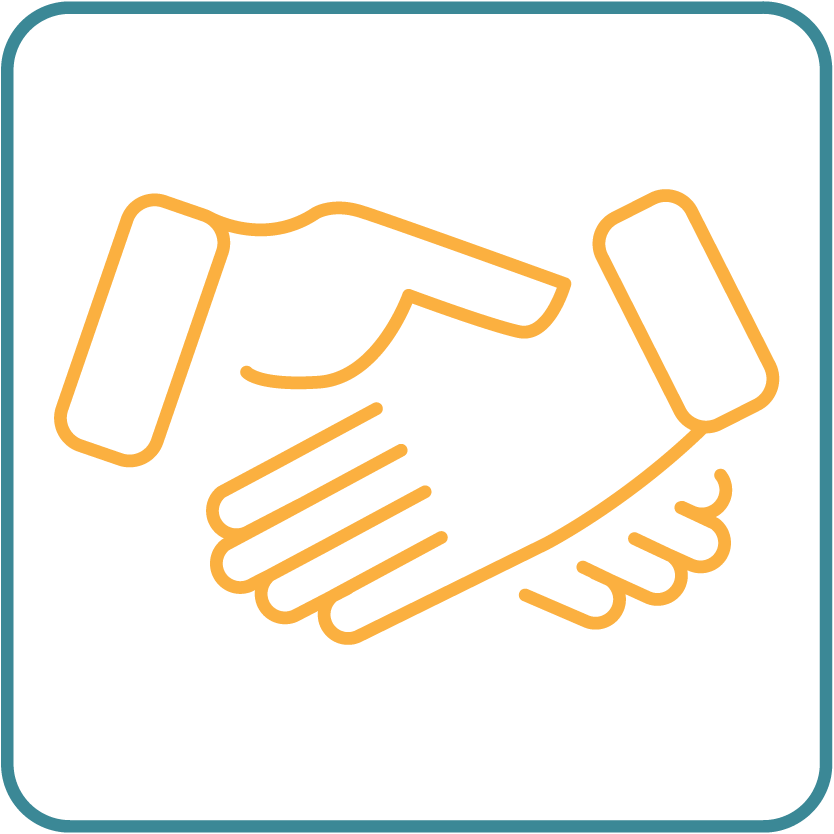 Working in partnership, to deliver better outcomes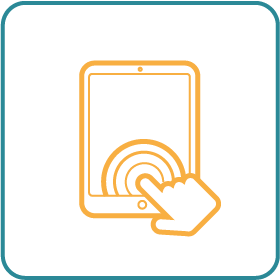 Mobile apps for field worker flexibility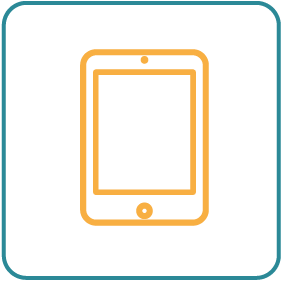 Web responsive design and friendly user interface
A scalable, end-to-end solution for local government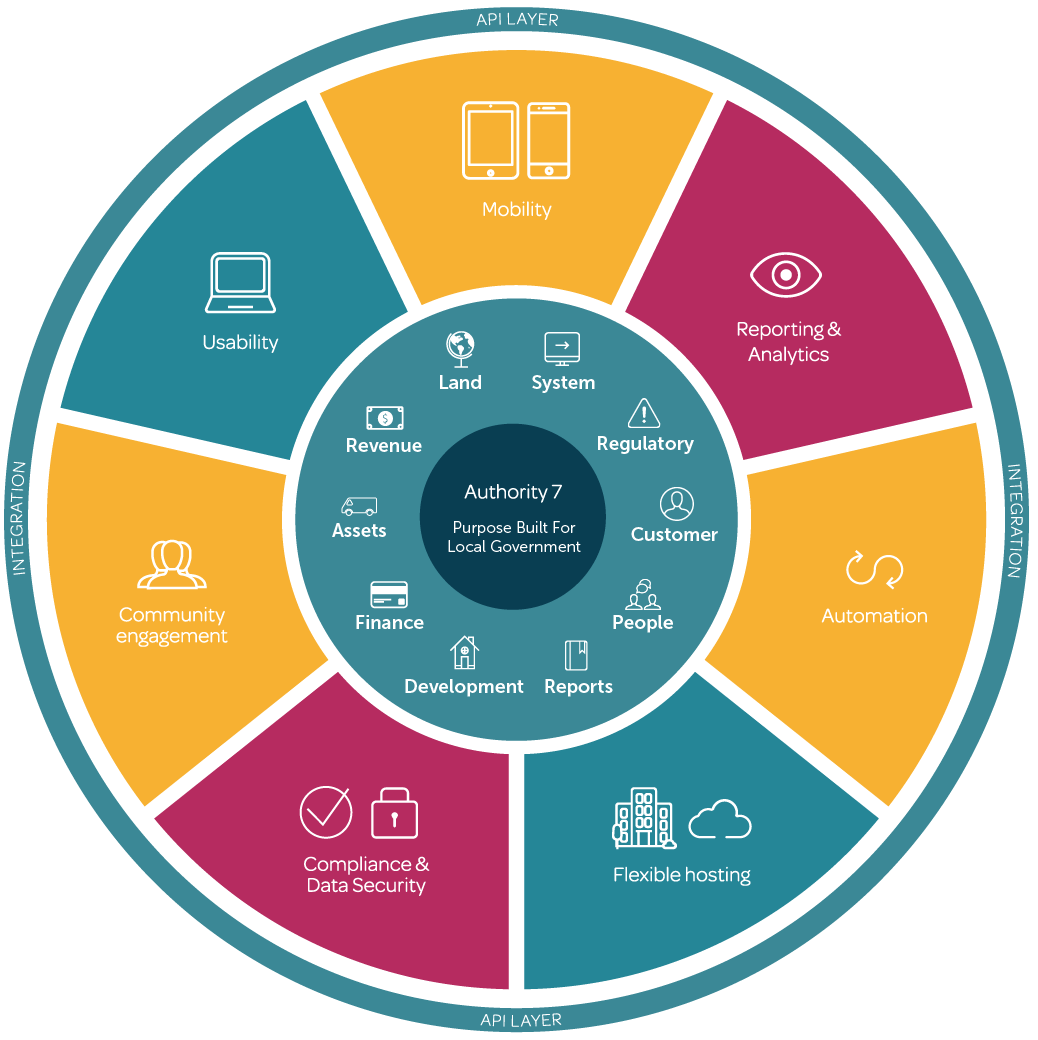 Authority is a rich, highly usable web application for workflow management which allows customer information to be accessed and updated with ease.
More than 40 modules of business software integrated into a rich matrix of functionality and technology.
An API layer to integrate with business partners and third party systems.
An architecture based on established, open principles of design that provide you with choice and flexibility now and in the future.
A single vendor to reduce the administrative burden with minimal complexity.
A single, unified user interface facilitating a seamless, highly useable experience.
Like most Councils, serving our community is one of our highest priorities, so giving our residents, businesses and visitors access to self-serve online tools makes it easier for them to interact with Council, which in turn helps us to provide a more timely and efficient service.
General Manager, Kiama Municipal Council.
A rich matrix of functionality and technology
Authority 7 is the first release of the future of eCitizen centric services. With a newly designed, modern and responsive portal for staff and the community - Authority 7 brings a range of reporting, productivity and performance benefits to local authorities and their citizens.
Mobility & Apps
In our research conducted with UTS: Institute of Public Policy and Governance, Changing Landscapes: Digital Transformation – What do local councils need in the digital age?. Ninety three (93%) percentage of surveyed local government respondents indicated that mobile compatibility would be useful or extremely useful to their organisation.
In light of this we have developed a series of Apps to complement Civica Authority called Authority Connect to create a better experience for our customers; allowing them to interact with Authority in the most efficient way possible.
This is only the beginning - please continue to check in as we create more Apps for Civica Authority, and continue to enhance our current offering based on the feedback of our customers.
Authority Connect: Comply - Infringements App for Civica Authority

Record evidence and issue on-the-spot infringements with ease, using Authority Connect: Comply
Download datasheet - Authority Connect: Comply (PDF, 800kb)
Authority Connect: Inspex - Inspections App for Civica Authority

Authority Connect: Inspex allows inspectors to create defects and carry out inspection tasks in Authority while in the field, on a mobile device.
Download datasheet - Authority Connect: Inspex (PDF, 800kb)
Authority Connect: Workz - Work Orders App for Civica Authority

With Authority Connect: Workz, a field worker can update and complete a work order on site, reducing the risks and inefficiencies associated with double handling and paper based processes.
Download datasheet - Authority Connect: WorkZ (PDF, 800kb)
Authority Connect: Actus - Task Management for Civica Authority
Actus allows you to browse/open/download - application, register, customer request, facilities booking, and cemeteries tasks from Civica Authority for completion in the field.
Reporting & Analytics
Authority Business Intelligence Solution (BIS)
Drive efficiencies in your council operations with the new and improved Authority Business Intelligence Solution (BIS). BIS is an intuitive BI application that utilises its smart analytical tools to enquire, analyse, report and budget against key organisational information
The new and improved BIS boasts an HTML5 front-end withall new customisable dashboard screens
View financial and non-financial data from different areas like Human Resources, Marketing, Finance, Assets, Rates & Valuations
Track performance and outcomes for tangible benefits to your organisation
Monitor council performance by setting alerts throughout the organisation
User empowerment at all levels in the organisation
See a top down view of key information, illustrating any hot spots or problem areas
Reduce workload with pre-configured reports
No need to write complex MS Excel queries, Crystal reports easily generate data
Export reports for use in other applications, documents and presentations
View saved reports on your screen in a graphical format to forecast trends for the year
Download Authority Business Intelligence (BIS) Datasheet (PDF, 800kb)
Automation
Automation
The digital revolution continues to drive innovation in the automating of tasks. Councils are increasingly dependent on automation for services from the watering of parks and gardens to the issuing of rates. Very few areas in local government have not been affected.
Cost is always an important factor and councils continually seek ways to reduce overheads and create greater budget efficiencies. Although many of the benefits of automation are enjoyed by ratepayers, councils also benefit from reduced transaction times, faster feedback on programs and projects, and importantly, freeing up employees from mundane and repetitive tasks to allow more effective use of their resources.
Alongside functionality found within Authority - we also partner with third party products such as EzeScan in order to provide service to those seeking to automate the processing of both hard copy and electronic invoices. EzeScan enables you to effectively reduce the time spent on manual data entry, distributing, validating and approving payment of invoices.
Flexible Hosting
Cloud Solutions and Managed IT Services
Cloud solutions and managed IT services for all levels of government
Civica can help you safely take advantage of the cloud, transforming IT service efficiency, security and performance. Cloud computing offers many advantages, including reduced infrastructure costs and a more resilient and scalable environment. But for organisations in the public sector, security and compliance concerns may be seen as barriers to migrating critical applications of the cloud. Our fully managed Secure Managed Cloud lets you take advantage of cloud, confident that your critical data and applications are secure and protected at all times.
Compliance & Data Security
Security to count on in Australian data centres
Secure Managed Cloud solutions are hosted in our own secure Australian data centres and offer a choice SLAs. Our data centres are certified as:
Sector organisations with IL3, PSN or IGSoc N3 data security requirements
ISO 27001, ISO 9001, SSAE 16/ ISAE 3402 SOC 1 Type 2 and UTI Tier 3 standards
Community Engagement
Community Portal - Engage your citizens

"Keeping in touch with the Rockingham community, receiving relevant information and engaging with the many different projects we are doing, is now easier than ever"
Barry Sammels, Mayor of the City of Rockingham (2017)
Community Portal for Authority gives your council the opportunity to redefine the way you interact with citizens to achieve:
Superior citizen engagement and experience
Efficiency through automation (self-management by citizens)
Alignment of service standards to maintain relevance with expectations of the modern citizen (24/7)
Usability
Usability is key to Authority 7 - featuring a brand new and modern User Interface, a range of Mobile Apps, and several Cloud hosting options.
User interface (UI) is growing in importance as digital transformation revolutionises the way business is done. Internal procedures and processes are being streamlined to achieve efficiencies that enable councils to do more with less.
UI is simplifying access to databases and web forms, opening systems to more staff members to participate, including via mobile while they are working in the field. Councils are experiencing the benefits of better UI through greater workforce flexibility and reduced complexity. The engagement of users with online services in other domains like banking and shopping continues to raise the bar on UI. While the applications and purposes are varied, they all contribute to rising expectations for usability, speed, ease and satisfaction
Over 40 modules of business software
Authority includes all standard features expected of an enterprise planning system, including name and address, customer request management, HR, payroll, and finance. It provides 'a single source of truth' for data and our integration layer eliminates double entry of data and drives efficiencies for users.
In addition, Authority offers unique modules and features specifically designed for local governments such as rates and charges, planning and development, electoral roll, utilities and waste billing, asset management, animals, infringements and inspections.

Customer
Receipting - Electoral Roll - Customer Request Management - Facilities Bookings - Name and Address

Revenue
Debt Recovery - Liquid Waste Billing - Rates - Special Rates & Charges - Utility Billing - Waste Billing

System
Registers

People
Payroll - Positions - Personnel - Skills - Training - Recruitment - Salary Packages - Staff Reviews - Issue Management - Workplace Health & Safety

Assets
Asset Register - Fleet - Maintenance Management - Asset Financials - Strategic Asset Management - Works

Reports
Pre-Defined - User-Defined - Ad-Hoc

Regulatory
Animals - Infringements - Inspections

Finance
Accounts Receivable - Accounts Payable - Bank Reconciliation - General Ledger - Contracts - Inventory - Loans - Procurement - Trust

Development
Applications - ePlanning - Online Applications

Land
Property - Certificates - Cemetery Management
A digital transformation journey with Civica
The Changing Landscape for the Public Sector: the challenges of building digital bridges

This report examines the current state of digital leadership in public sector organisations, analysing the barriers and challenges of leading in a digital-first economy.
Download report
Changing Landscapes: Digital Transformation,
What do local councils need in the digital age?
Download report
Find out more about how Civica can transform the way you work