Civica continues commitment to support Northern Ireland's future IT and Engineering talent
Six more of Northern Ireland's best IT and Engineering students win a place on Civica's long-running Civica Scholarship Programme in 2018
Civica, a market leader in business-critical software applications, digital solutions and managed services has welcomed six students from Queen's University Belfast to join the company's prestigious scholarship programme.

Launched in 2008, in partnership with Queen's University Belfast and Ulster University, the programme is open to Computer Science and Engineering students studying at both universities and aims to nurture fresh talent in the UK Information Technology (IT) sector. Scholars work alongside Civica professionals during paid summer and year-out placements to gain valuable workplace experience; to date, more than 50 IT and Engineering students across the UK have joined the programme, each securing a scholarship package worth up to £25,000.

With financial assistance secured, Civica's six new scholars will continue with their first year studies at Queen's University Belfast, returning to Civica Digital in summer 2018 to start their first industrial placement.

This year's scholars – Esther Millar, Reuben Brown, Lemuel Hui, Cameron Thompson, Ryan McKeever and Peter Morrison were welcomed to a ceremony at Civica's Belfast office along with family members and university representatives.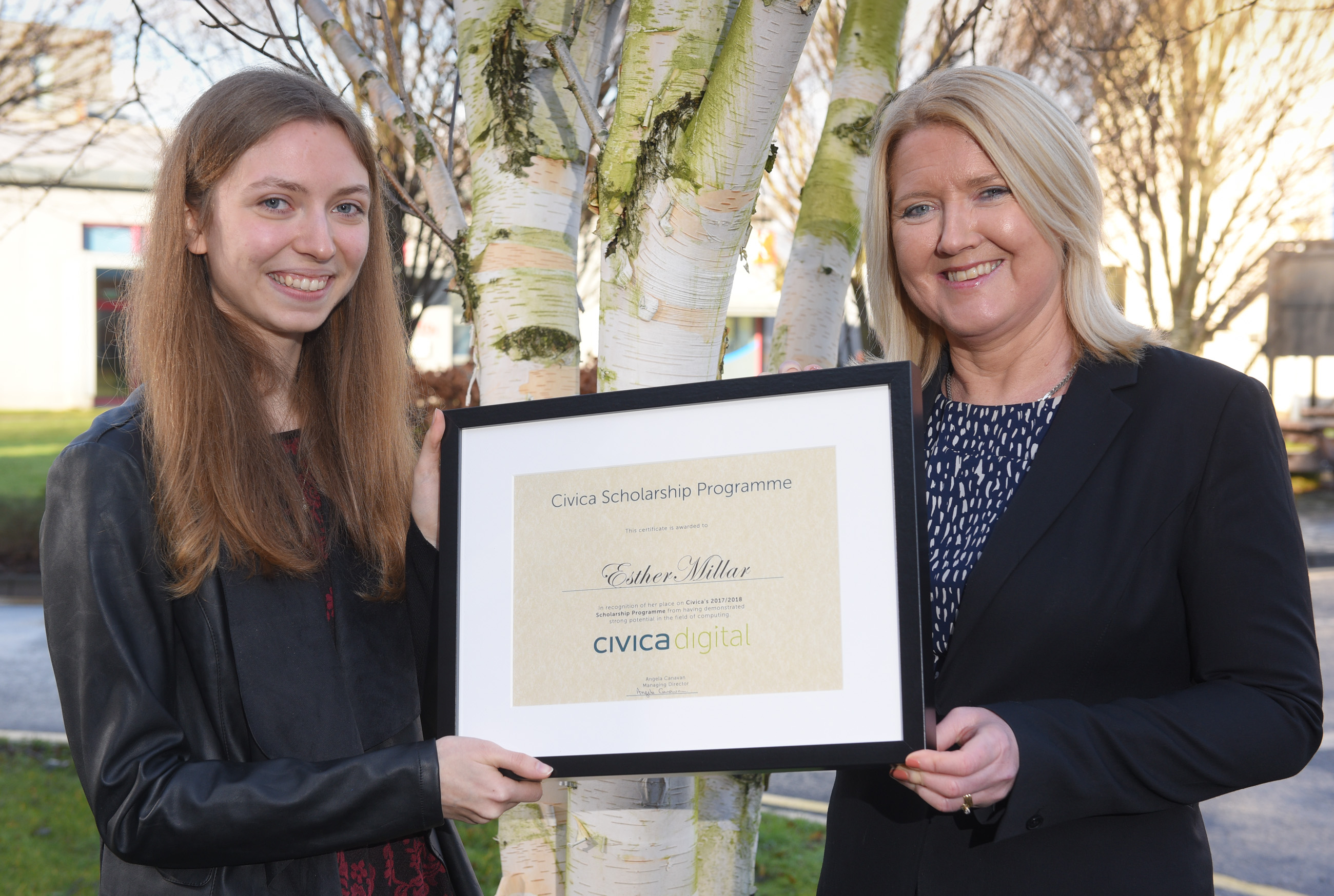 Esther Millar (left) accepting her Scholarship Programme Award from Civica's Angela Canavan

Speaking at the ceremony, Venita Murphy, Careers & Placement Advisor at Queen's University Belfast said: "The relationship between Queen's University Belfast and Civica is really strong. The Civica Scholarship Programme is a great example of how the collaboration between academics and employers can help to develop young individuals, and prepare them for industry. So for Queen's, and more importantly, our students, the programme is really beneficial. We are delighted that Civica, alongside Queen's University Belfast, is committed to helping these students and graduates of the future."

One of the 2018 scholars Esther Millar, added: "I was really interested in the projects that Civica has worked on in the past and the fact that the technologies they're involved with really make a difference to people's lives. I hope to make a positive contribution to the Civica team and the projects I'll be involved in."

Fellow scholar, Lemuel Hui shared these sentiments, realising that the scholarship presents an, "incredible opportunity" that will help him "stand out from the crowd".

Managing Director of Civica Digital Ireland, Angela Canavan, commented: "We encourage our people to develop their full potential in an open, friendly and supportive environment. Our scholars have already shown their outstanding talent, and we're confident the programme can help them further stand out from their university peers – giving them the necessary skills, training and vital experience needed for a successful future career in the technology sector."