Can you CodeIT? Civica launches technology innovation programme
Coding initiative invites bright young minds to explore how emerging technologies can help transform public services and communities
Civica, a market leader in business-critical software applications, digital solutions and managed services has launched its brand new innovation programme, CodeIT.

The main aim of this student programme is to create an innovation space for young coders to explore real-world problems in new ways. CodeIT will offer students the chance to apply a variety of software and coding skills around the theme of using technology to transform public and community services, all within a supportive and inclusive learning environment.

The student programme is kicking off with a series of coding events in conjunction with five of the UK's leading higher education institutions: Queen's University Belfast, Ulster University, The University of Bath, The University of Bristol and the University of the West of England (UWE).

CodeIT events will see teams of budding technologists spend a day away from university pressures to explore and tackle new and emerging technology, using their creativity and innovation skills to find solutions to real-life scenarios. Students will be supported throughout the programme by a team of Civica CodeIT specialists.

The first event, held on 7th March at Civica's Belfast office, saw a number of teams of young coders, all undergraduate students studying an IT related discipline at Queen's University Belfast and Ulster University, take part in a 12-hour hackathon. The teams were tasked with developing new ideas based around connected devices, location-based and augmented reality technology and machine learning, with a £1K prize up for grabs for the top concept on the day.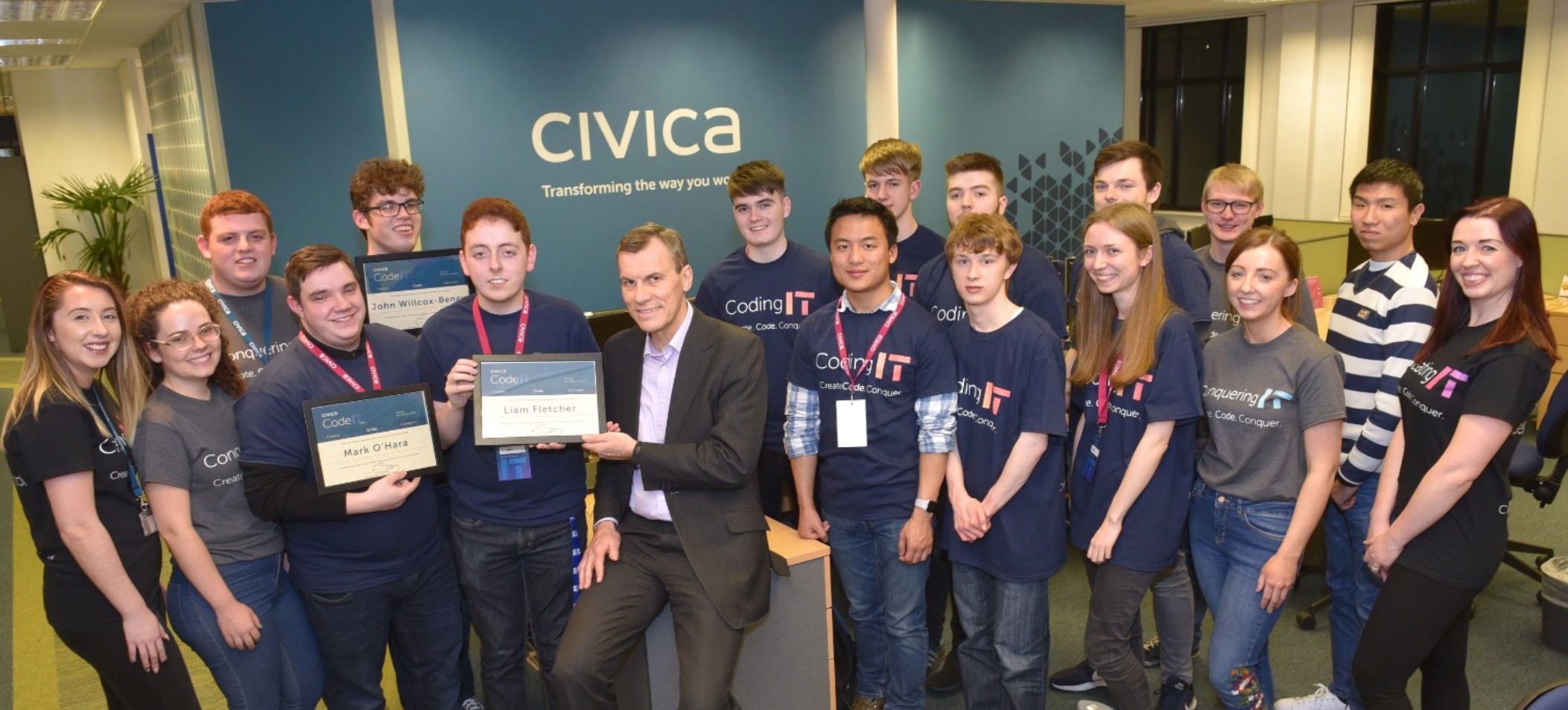 With ideas ranging from online councillor forums to new car sharing services, the winning team on the day, 'Azure It's Fine' triumphed with their chatbot concept, designed to help residents easily navigate government websites.

Liam Fletcher, a second year student at Queen's University Belfast, and a member of the winning team, commented: "It's great to work with emerging technologies which you might not always get to use at university. I've always been really interested in chatbot technology and so it's been amazing to have the chance to learn more about this – and win the first CodeIT event!"

Wayne Story, Civica's Chief Executive added: "As the leading provider of business-critical software and digital solutions across the public sector, we're delighted to launch this new programme and to expand our work with universities to encourage students to innovate around real-world issues. The pace of change and expectation continues to accelerate, from connected devices to machine learning, and we're excited to see the ideas which CodeIT will stimulate as part of our continued focus on technology-based innovation."

The second university coding event will take place on 21st March at Civica's South-West hub in Bristol and is open to current students studying IT-related disciplines at The University of Bath, The University of Bristol and UWE.