Our clients are increasingly turning to us for assistance with digital transformation of their election processes. At Civica Election Services (CES) we work across a wide variety of sectors (Local Government, NHS, Membership organisations, as well as companies and the private sector), so we understand that the digital transformation of election processes may have different requirements depending on the needs of the specific client and their voters.
Voter feedback and user experience (UX) are very important resources for us as they help us to understand how the end user is experiencing their online election process. Our voter feedback survey (which the majority of our online ballots include) receives a very high response rate, providing us with a great pool of quantitative data. This kind of data is vital in helping us to monitor the overall performance of our voting sites, identify any user issues, and gather suggestions for improvements, as well as new features.
Supporting this type of data analysis, invaluable face to face voter research provides deeper insight into the more emotive reasons for participating and can help inform digital transformation strategies.
Yorkshire Building Society – Your Time to Talk
We were recently invited to attend a Yorkshire Building Society (YBS) membership event, 'Your Time to Talk', to conduct sector specific face to face User Experience (UX) testing on our CESvotes AGM platform with the attending YBS members. Spending time with the individual YBS members provided us with a good opportunity to better understand voter behaviour and improve our approach to increasing member engagement and voter participation.
During the course of the event, we were able to speak with a number of YBS members who were willing to run through our AGM platform demo site and answer some questions on their experience of doing so.
To really understand the voter and their needs, we split our questions into four categories: comfort using technology; existing experience with AGMs; perceived benefits of online voting; and the wider voting behaviour of the individual.
Here's what we found: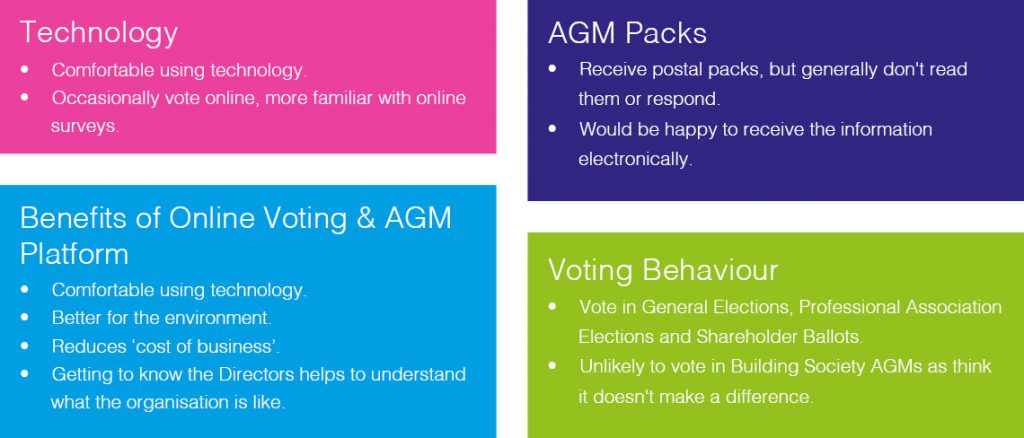 These responses to our questions, combined with our own observations as members used the AGM Platform were extremely valuable. Face-to-face research complements the quantitative analytics we undertake – the statistics can show you where a problem may exist and talking to voters can tell you why it exists. Contributions like these help us to develop sector specific 'voter personas' which ultimately help with improvements and the future development of our online voting tools.
The demographic of the end users of our digital services vary vastly across the sectors we work within, each with different requirements and expectations. That is why qualitative insights and attending participatory events are so valuable in helping us inform and advise our clients as best we can.
What Yorkshire Building Society think:
"It was great that CES were able to attend our member event and get some feedback on the AGM platform. Hopefully this research will help us build an engaging voting platform which will encourage voting online.
As a building society, it's important we take our members feedback on board to ensure we're acting in their best interests and continually looking at ways we can improve."
To find out more about how we can help you with your digital transformation strategies, contact us on 020 8365 8909 or using our online enquiry form.
Civica Election Services
Making democracy happen - the UK's leading provider of election services, with over 100 years' experience of administering elections, ballots and consultation processes
Back to Civica Election Services