CarelinkAir is the next generation of CarelinkPlus. This solution allows the workforce involved in planning and delivering care, to be connected whilst in the field. Our web-based application is designed for use on tablet and smartphone devices and is fully integrated with your CarelinkPlus database in real time.
Community care organisations have saved countless hours of office administration time by implementing CarelinkAir. Having the ability to view capture and update client information remotely allows organisations to reduce costs and improve productivity so that they can spend time doing what matters most.
Care workers can manage client and employee rostering via CarelinkAir, giving mobile workers the flexibility to focus on client engagement and the freedom to provided better care outcomes.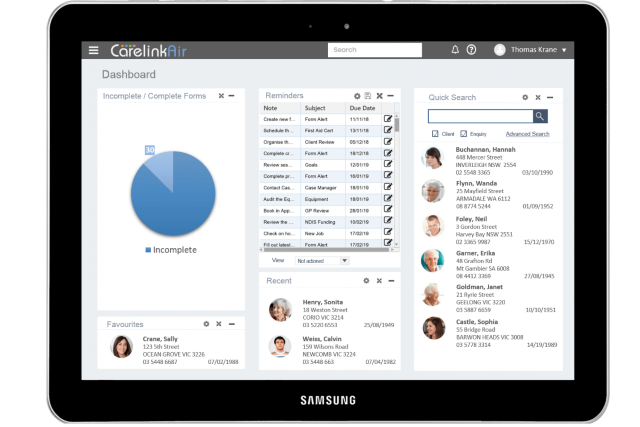 Why choose CarelinkAir?
Digitise paper-based forms to increase efficiency of mobile care providers & minimise back office processing
View & capture client information remotely with seamless integration with your CarelinkPlus solution
A web based solution to mobilise staff and allow the client to be fully engaged with the service provider
CarelinkAir Features
Dashboard - The Dashboard screen allows easy access to a customisable layout of useful widgets.
Forms - Develop customised forms for use in the field including assessments, risk scoring, goal plans and more.
Client Records - Access up to date client information with real-time integration with your CarelinkPlus database.
Attachments - Create and attach documents to client notes and profiles whilst on the go.
Workflows - Workflows allow you to build in various actions to occur based on the way a form is answered.
Maps - CarelinkAir has the ability to link client addresses to Google Maps at the push of a button through Maps.
Notes - View and create notes in the field and have them sync to your CarelinkPlus Solution.
Signatures - Capture signatures digitally with CarelinkAir. No more paper-based forms to process in the office.
The new CarelinkAir rostering solution
CarelinkAir enables us to meet our documentation requirements in the most efficient way possible, to allow more time to support our vulnerable children and young people."
Find out more about how Civica can transform the way you work
You may also be interested in