Following a forum with our biggest customers, Pensions Managing Director, Chris Jones shares the top three megatrends that will impact how we deliver pensions administration capabilities that are fit for the future.
In November 2021, I was lucky enough to host our first ever Strategic Partners Club, a forum of our largest customers. It began with an innovation session facilitated by our NorthStar team, to openly discuss the Future of Pensions Administration in 2030, and how together we can address the challenges ahead.
Defined benefit pensions administration is complex, highly specialised, and vitally important to the 20 million UK citizens who rely on their defined benefit pension when they retire. At Civica, we believe that data, automation, and emerging technologies will be key to the future and we're constantly exploring opportunities to strengthen our offerings.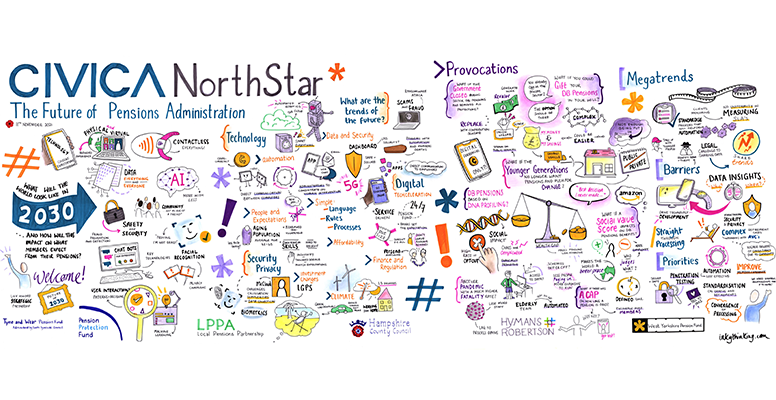 To push the boundaries of what can be achieved, the forum considered potential threats and how they might impact. To stimulate conversation during the session we explored some interesting and thought provoking themes such as…
What if the Government closed public sector defined benefit pensions with a potential meltdown of the public sector as essential workers boycott their jobs?
What if the younger generation reject pensions and push for other benefits, expanding the wealth gap with those who have provisioned for the future and those who haven't?
I've summarised the top three megatrends we identified from the enjoyable, yet challenging discussions.
1. Accelerating citizen expectations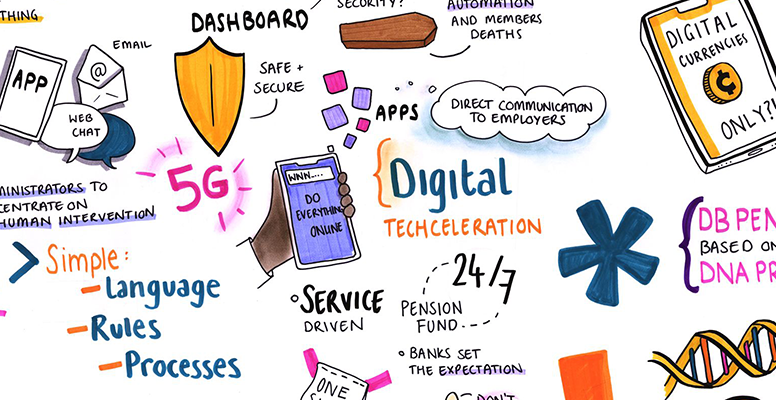 It's safe to say that the pandemic has transformed expectations and increased demand for more digital public services. With home working and often longer hours, people are more aware of what can easily be done online. With a more tech-savvy nation, it's vital for public services to further digitise and improve the experience for everyone, whilst not leaving people behind in a digital age.
Predictably within pensions, there is an increased expectation of services of the same quality and scope offered by banking and retail. Citizens want an easy, accessible, and often mobile first engagement. The demand to self-serve has never been greater.
Joanne Darbyshire,
Managing Director,
Local Pensions Partnership Administration
There are a lot of curious pension scheme members who are open to using new tech, and we can be much more ambitious in leading the way.
2. Increasing (need for) Automation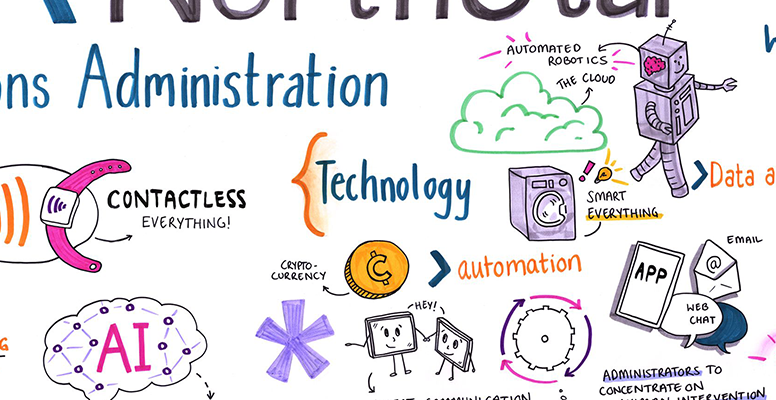 There's an increasing awareness of the opportunity of Artificial Intelligence (AI) and an expectation that this will be harnessed to reduce the need for human interaction when it comes to administering pensions. Human interaction should only be required for the most complex transactions and add value, while routine work should be automated.
Bending technology to meet each pension administrators' unique processes is expensive and time consuming. There is a desire to agree on best practice end-to-end digital automated processes and to have this configured into pensions administration systems and available 'out of the box'.
Everyone in the room had seen higher expectations from members during and since the pandemic. This is where using process automation by default is key. It will reduce administration costs and improve data quality, as well as improving the member journey. At Civica, our forward-thinking user research has inspired us to develop this ahead of the curve. In addition, by integrating UPM data with new reporting tools, we've enabled our customers to better understand member engagement and optimise services.
Gary Evans,
Hymans Robertson,
Head of Third Party Administration
Technology without a clear use case is a toy. Enhanced analytics & machine learning​ will drive stronger and faster data driven decisions.
3. Maintaining security and privacy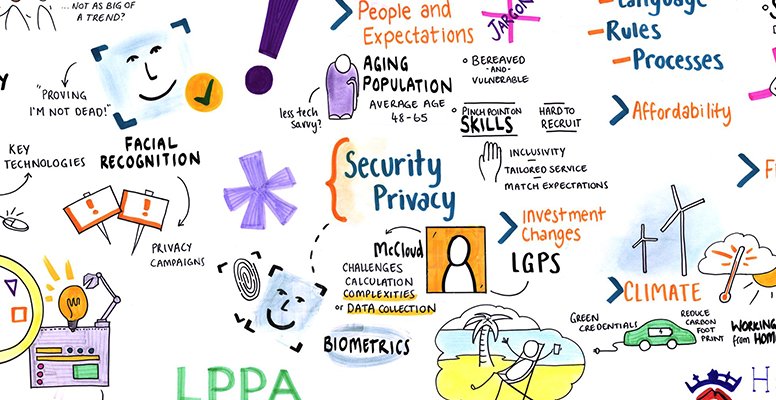 Funds must embrace specialist technology in this area, to reassure members that they are as secure as they can possibly be.
Working in partnership with customers and technology innovators we've streamlined the proof of life process by allowing members to photograph their ID and go through a live check to verify themselves. This reduces the risk of fraud, lowers costs by 70%, removes errors associated with paper based ID verification processes and provides a swift and easy service for members.
We all agreed that cybercrime will always be a challenge, and the risk has never been greater. But the tools we have, to tackle the fraudsters and risks have developed too.
Yunus Gajra,
Assistant Director,
West Yorkshire Pension Fund
Asking the right question at the right time because of insights from interconnected data can make a genuine difference in outcomes.
It's been a real privilege to hear from forward thinking customers in the pensions industry, and to talk in-depth about how things might change over the next decade.
Sara Protheroe,
Chief Customer Officer,
Pension Protection Fund
The challenge is less about the tech, but more about inclusion and being led by the public.
Our very first meeting of the Strategic Partners Club was a genuine exploration of the art of the possible. I for one, was left with a real sense of excitement not just for the transformative potential of digital technologies in the pensions sector and the positive impact for scheme members, but also crucially, the appetite for innovation amongst likeminded, forward thinking industry leaders.
If you have a view on the future of pensions administration in 2030, why not join the conversation? #CivicaNorthStar