Reduce waste, improve efficiency and improve safety at lunchtime with our new pre-order mobile app.
These days, we are used to the convenience of ordering food online using mobile devices. CivicaEats brings this experience through the school gates, engaging students, reducing queues and cutting food waste.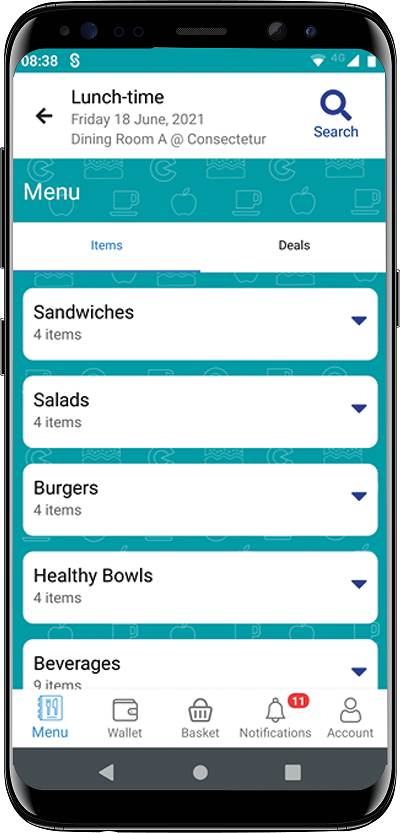 The CivicaEats mobile pre-order app complements the Civica Cashless system and Civica Saffron catering management software. It allows students to order meals in advance, reducing food waste and simplifying compliance with Natasha's Law.
Reduce food waste, cut costs and help save the planet

With food ordered in advance, the kitchen prepares only the meals that are required. This not only minimises waste and is environmentally friendly, it allows for more accurate management and ordering of stock.
Increase take-up of your catering service

With improved student engagement and a convenient 'grab & go' service, your school will compete with off-site options and benefit from an increase in use of service.
Protect your students

Natasha's Law highlights the risks surrounding allergies. With CivicaEats, unsafe options can be removed from a student's individual menu, stopping the student from inadvertently ordering the wrong item – and giving you peace of mind.
Save administration time

CivicaEats has a built-in student onboarding process and is fully integrated with Civica Cashless meaning menu choices and balances will be instantly updated between systems.
Encourage healthy eating

CivicaEats allows for the promotion of meal deals and key food categories such as fruit and vegetables, making it easy and appealing for students to choose healthier options.
Tell me more about CivicaEats
By clicking 'SUBMIT' I understand and agree to you using my information to respond to my enquiry and to email me further marketing communications from Civica. You can unsubscribe or select your email preferences at any time through our Email Preference Centre.
Privacy – At Civica we take your privacy seriously. We collect data via our web site to operate effectively. We will use the information you provide to respond to your enquiry, and to email you further related marketing communications from Civica.
You can read our full privacy notice here
Saffron helps Lancashire County Council transform catering operations
Introducing Civica Saffron catering management software has helped the council to identify and address inefficiencies, boost productivity and increase transparency in school kitchens.
Learn more