Alice Leung is a secondary school teacher in Australia with over 15 years of experience in public education. She specialises in technology integration in education, gifted education and STEM. Alice has received numerous awards in recognition of her leadership and innovative teaching practices.
The views expressed in this article are those of the author and do not represent those of their employer.
Despite being well into the 21st century, schooling is still stuck in the 1900s, demanding consistency and conformity. Learning is driven by bells and timetables. School systems want learners to do the same thing, at the same time, in the same way.
Students are told they must spend a set amount of time learning a specific concept, regardless of whether they have mastered that concept in less time or need additional time. It is no wonder many families are flocking to home schooling, particularly those with children who have difficulty conforming to the rigidity of mainstream schooling, such as those who are gifted or have additional learning needs.
Teaching is also constrained by old ways of thinking. Despite the growing recognition of demands on teachers' workloads, their work is still often measured by their physical presence in the classroom. Everything else that enables successful lesson delivery such as lesson planning, learning design, marking, and assessment, is often unacknowledged and undervalued. Teachers consistently report they do not have the time to meet the increasingly complex needs of their work.
If we're to shift these issues in a child's school career by 2040, we must transform the schooling system to adapt to the needs of learners and teachers.
A catalyst for change
It's often said that changing education is like turning a ship around. It takes a long time. Too long. Ironically, the past three years have shown that our society can indeed rapidly transform and adapt. If we can make such large-scale changes to education, health, and transport in three years, imagine what we can do in 18 years.
Schools that had to pivot to remote learning realised different ways of working and learning. During lockdowns, many schools focused on the social-emotional and academic needs of their students with a mixture of synchronous and asynchronous learning. Some schools implemented well-being days where there was no assigned work. A day where students caught up on work they may have missed or used the time to focus on study notes or pursue a passion such as cooking, reading for pleasure or physical activity. Some even used this day for students to book into small group tutorials to receive targeted support for concepts they were finding challenging.
Teachers revelled in this rare sustained block of time to plan lessons, make adjustments and accommodate individual student needs. Teachers also collaborated intensively with colleagues and engaged in professional learning on demand.
Whole communities of educators have had a taste of how learning can be different and more responsive. We now have the knowledge and skills to reimagine how schools can be even better at enabling learning. We aspire for learning to happen anytime, anywhere and at any pace. How can school systems rise up to the challenge of supporting teachers to meet these increasingly complex aspirations?
Would less school result in better teaching and learning?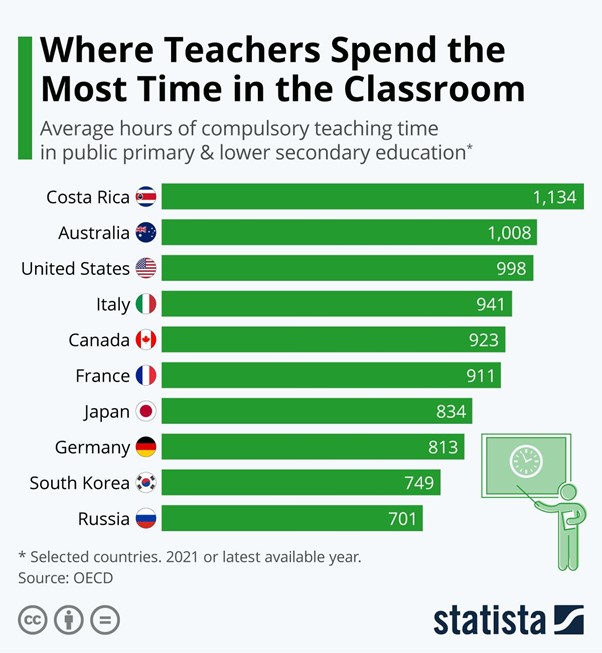 The answer to better learning and teaching may lie in less school.
Australian children already spend more time in the classroom than the OECD average. Australian teachers rank second in the OECD for the most time teaching in the classroom. Which begs a number of questions -
Do Australian children have to spend so many hours at school?
Do teachers have to spend so many hours face-to-face teaching?
Does school have to be five days a week?
Can students have an opt-in day, so they only have to attend school for four days a week?
Answers to these would give teachers the core time to address the behind-the-scenes yet critical work of their roles, such as lesson planning and marking.
A four-day school week is not a new idea. One study has shown it improves student results. However, current models that cram the same number of school hours into four days are last-resort responses to teacher shortages. This approach isn't feasible as it doesn't recognise nor value teachers' work outside the classroom. We need to go a step further and cut compulsory face-to-face learning hours for students, to enable teachers to design a more personalised and responsive approach to student learning. At the same time, this opens up bigger ambitions to give students more agency and control over their learning.
Schools have already offered a mixture of synchronous instruction and asynchronous independent learning - society has often called it 'homework' in primary and lower secondary years. Some schools are also requiring students to engage in 'flipped learning' in the upper secondary years. 'Flipped learning' is when students learn concepts in recorded lecture-style videos in their own time. These flexible, hybrid formats of learning can expand even further.
Imagine instituting an opt-in day where students can choose to complete their learning at home, at the local library, at a friend's house or come to school for additional support. Younger children in primary school could opt-in to come to school for extracurricular and enrichment activities. A day set aside where there is no 'new' work set for students to complete - a day where we all get to catch-up, go deeper, change pace and reflect. A day where students are trusted to choose what they need to do to meet their needs. This might involve additional support at school or pursuing passion projects, undertaking volunteer work, paid employment or working on major projects with a multitude of other peers or organisations.
The risks
There are of course risks to a four-day school week. Opportunists and bureaucrats might jump at this idea as a way to further cut teacher numbers, reduce their pay or make them teach more classes. Such measures all fail to understand the complexity of teaching and learning. So much of teaching is often invisible, the work behind-the-scenes is just as important as the more visible classroom teaching. Both must be valued if education is to truly evolve.
Another risk for a four-day school week is the potential for it to widen the gap between the students from the most vulnerable backgrounds and students from the most advantaged backgrounds. Australia already has one of the most unequal education systems in the world. A recent OECD study showed socio-economic status impacted students' performance from an early age and widened as they progressed through schooling. Similar results were echoed in a UNICEF report.
For some students, schools are the safest place for them and the most productive place for them to thrive. A four-day school week would not mean that school is closed for a day. An altered school week should not place our most vulnerable students further behind because of their socio-economic status, rural or remote locality or lack of access to reliable technology. Students must be able to attend school as much as they need to, which reinforces the significant role schools play in connecting families to other health and community services.
Regardless of the apparent risks and anxieties, we cannot continue with the status quo. Even in 2022, we can see that the mainstream model of schooling is failing our students and our teachers. There are broad shared ambitions and national goals for effective and equitable education, perhaps it's time we stop them being suffocated by an antiquated schooling system.
Perhaps less school actually means more education.
---
---

This work is licensed under a Creative Commons Attribution-NonCommercial 4.0 International License.