Author Bio
Alannah is a Victorian secondary school student passionate about working in Environmental Science and Conservation in the near future. She regularly participates in her school's leadership initiatives, as well as other programs such as Parks Victoria Volunteers and Melbourne University's Kwong Lee Dow Scholars.
2040 - A year that's a comfortable distance away from the present, right? For the changes needed in education however, we should start now if we're to have a better and more sustainable education system in 18 years.
To improve the opportunities and liveability of our future we must start implementing different approaches in the education sector. To create that world, we should be focusing on three aspects of education. Helping schools be more connected to their communities and conservation initiatives, amplifying the power of communication through technology, and embracing languages and especially those native to Australia. These three aspects take us towards a 2040 where students will be equipped to be a part of a world worth looking forward to.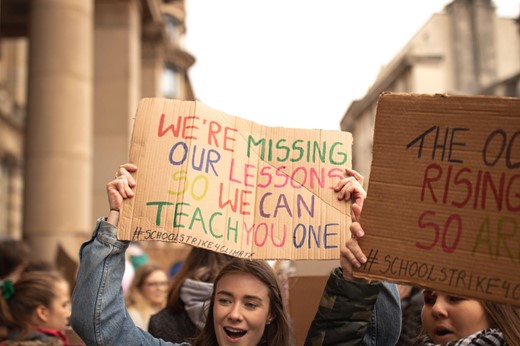 Communities of Conservation
Finding our voice
Teaching children how to express and explain their perspectives and opinions is core to being an effective communicator, especially by the time they leave school. I've been part of student leadership programs since Year 1, where my primary school had a student council with representatives from all year levels and welcomed a broad range of opinions. While I may have preferred running around to sitting in a meeting when I was younger, I realise now that these programs support students in expressing themselves without fear of judgement.
Education must support student involvement even more if we're to navigate the challenges of our world. Schools are built for students; they're our spaces to learn about society and the world. We deserve to communicate our knowledge and ideas openly, and not just on a test or exam. Students have unique perspectives on what it means to learn in the present and we have creative ideas on the future that others may never think of.
My school runs a Mount Matters program, a student voice initiative where students lead focus groups to implement change. Through this program students have driven the implementation of outdoor furniture, water taps and down-ball courts as well as initiatives on teacher-student feedback surveys. Mount Matters representatives have also taught other schools about student voice and leadership.
Giving students a place to express their ideas and feel supported in what they say or do has increased engagement immensely. It's clear that young people must feel appreciated, supported and 'heard'. The more schools involve students, the more students want to give back and be a part of a nurturing community that takes us into a more equitable and sustainable future.
Caring for our environment
The scientific consensus is that by 2040, it's predicted that the global temperature will rise 1.5 degrees. There'll be severe food shortages, devastating extreme-weather events, and loss of habitat and biodiversity. The impacts of climate change can already be felt right now. As a key part of our communities, schools have a role in addressing the projections of climate change.
In Victoria we see a varied effort in the pace of change. Disappointingly, the Victorian Department of Education has no firm directives on the sustainability of facilities in Victorian schools. Under 'Policies on Sustainable Facilities' in schools, it only 'encourages' and 'supports' schools to be environmentally-friendly and install sustainable systems. Jurisdictions will need to do more than just encourage change.
However, Sustainability Victoria is working to shape Victoria into a circular, climate-resilient economy. They're aiming for net-zero emissions and generating much less waste, while keeping the economy happy and healthy. Schools can aim for a Resource Smart School Award - an initiative of the Victorian Government to help schools "embed sustainability in everything that they do". At my primary school, which received a Resource Smart School Award, all students no matter how young, were involved in caring for our local environment and learning about their bigger environmental impact. Students were taught how to separate their rubbish into waste, recycling and green scraps, and each year level was responsible for an environmental task.
My current school hasn't adopted any of these practices. Students don't pick up rubbish knowing it would be better for the environment. So how can we change that? We must continue to embed the practices of local primary schools and ramp up efforts in secondary and beyond. Simple environmental principles for all schools would mean that more students would become environmentally conscious and responsible.
We need to mobilise these types of initiatives at a greater scale and pace, and move from encouragement to endorsement of long-term sustainable practices in schools. By 2040, this must be the norm.
Communication
The use and development of technology is an inherent part of our lives now and well into the future. Online learning in recent years through COVID-19 was a key example of how technology can keep people connected and learning even when isolated. In my experience, meeting every day with my classmates and teachers during lockdown was extremely important for both my learning as well as my mental, social and emotional health.
Technology allows access to resources and knowledge that many students might not have had in the past. It opens up opportunities for isolated groups, whether geographically or otherwise, to attend educational institutions in any place or situation. Providing the option of online learning either full-time or part-time would mean, for example, that a student can complete their high-school certificate and not have to commute for 2 hours or more every day. This is not only more time efficient but can also remove issues arising around accessibility, subject choices, and juggling wider commitments. I missed a lot of school this year due to hip surgery and related complications. While I've managed to complete and pass all coursework, I would have appreciated having the option of online learning during this time so that I could still feel connected to my school community.
Completing education via online learning is not without its limitations. The social, emotional and school-life experience that comes from connecting with both teachers and students is arguably as important as the subjects in preparing students for their life ahead. However, it's an undeniable asset that using technology to connect students to places of learning will help bridge some major barriers to education. It also makes the education sector part of a global community, and brings us together to tackle bigger global challenges
Country
Regardless of the type of school, most Australian students learn an additional language for at least the first two years of their secondary education. Currently languages such as Mandarin, French, Japanese and German tend to be the go-to choices for schools.
While learning any language comes with significant benefits, by opening up opportunities for learning an Aboriginal or Torres Strait Islander language which is indigenous to the school region would result in deeper understanding and respect for the rich culture of First Nations' people.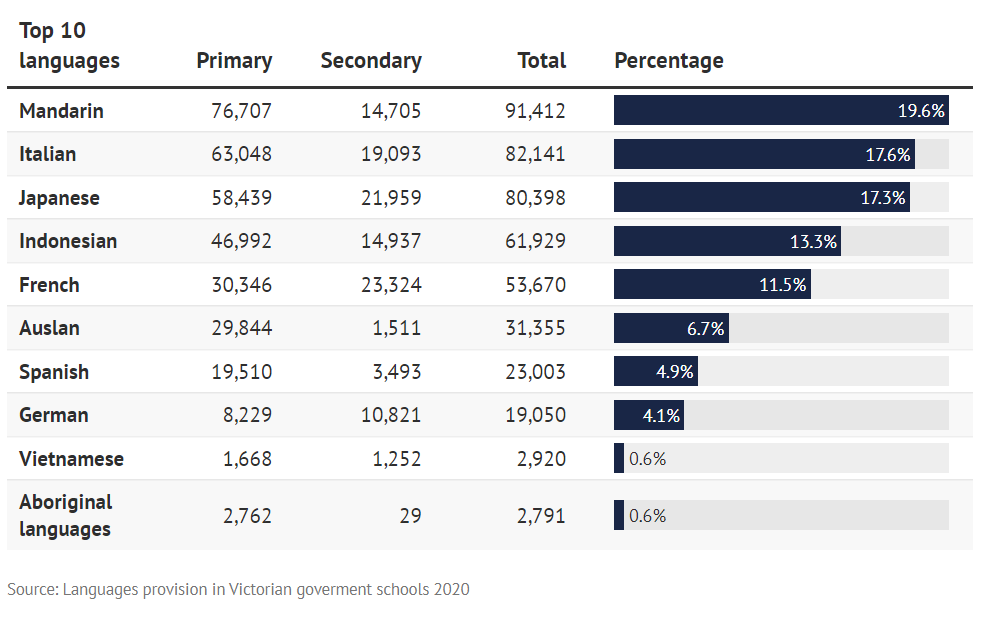 In the transition from junior to middle/senior secondary school, many students discontinue learning a second language. For example in 2020, only 29 students in Victorian Government secondary schools were learning an Aboriginal Language compared to 2,762 students in primary school.
Many students may view other subjects like economics or chemistry as more important to learn than a language. Students may also think that of all the languages to learn, an Indigenous Australian language might not be as 'applicable' or 'useful' for everyday use. This is where the attitude towards Indigenous language learning needs to be re-examined. These are our native languages and they're disappearing.
There is so much to understand and learn from one of the world's oldest living cultures. We can improve our connection to Country and better nurture our respect for Aboriginal and Torres Strait Islander cultures with a deeper understanding of their languages. We also gain insight on the practices of Indigenous Australians' that are often more sustainable, balanced and responsible toward our world.
Conservation, communication, Country. Three ways we can connect education more deeply to our world and our context. The only piece missing is leadership. What and where can you lead? Who can you influence with these three approaches? If time isn't on our side, then maybe all we have is our own determination.
---
---

This work is licensed under a Creative Commons Attribution-NonCommercial 4.0 International License.