About the Author
Louka Parry is an award-winning educator, futurist, speaker and strategist that works globally to transform education through leadership, wellbeing and innovation. He is Founder + CEO of The Learning Future and Founding Executive of Karanga: The Global Alliance for Social Emotional Learning and Life Skills.
"The real problem of humanity is the following: we have palaeolithic emotions; mediaeval institutions; and god-like technology. And it is terrifically dangerous, and it is now approaching a point of crisis overall." — E. O. Wilson
At this very moment a child is being born. An irreducibly unique expression of our species, entering our ever faster, complex world. This child will experience a very different world of work as part of an evolving global society.
Imagine you've just transported to 2040. What is your life like? What might it be like for a 17-year old young person finishing their formal schooling? What do you expect their experience of school has been like? How has education shaped their learning, working, living and being?
As an educator, I firmly believe that we must cultivate our thinking as futurists. We can readily appreciate that the future isn't linear in any real way. When we think about the system transformations needed for education, we need to imagine possible futures and then to act intentionally and collectively to create our preferred future. A useful reference tool for understanding futures-thinking is 'The Futures Cone' by Joseph Voros.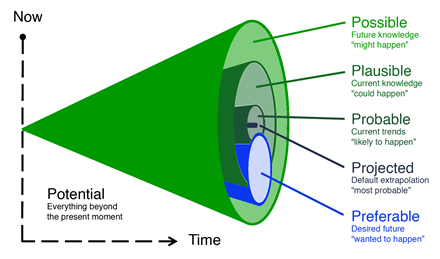 Figure 1: Joseph Voros, Futures Cone (2003)
By 2040 we might well be reflecting on how we've narrowly avoided tipping points - even if we've overshot our planetary limits. We will finally be reaching the level of consciousness required for true global collaboration, something Professor Robert Kegan calls 'the self-transforming mind'. This focus on healing, growth and development helps us cultivate the wisdom required to evolve three 'big Es': Economics, Ecology and Education.
In this future, our Economics has moved from an extractive stakeholder profit paradigm to one of regeneration and social prosperity. Our Ecology became increasingly hostile, but we've stabilised and we're on the road to global regeneration and energy abundance. Our Education has moved beyond standardisation and the cognitive obsession to one focused on a holistic approach. Education is now underpinned by a global infrastructure of learner sovereignty and mobility that prioritises diverse and unique contributions.
This 2040 feels a long way from the horrors of 2022. One where we were riddled with wicked problems. Yet we transformed for a simple reason - we remembered our humanity and the profound interconnectedness of our schools, communities, society and planet.
The journey towards the future of education
Our transformation journey begins by asking different questions. Instead of 'what's the answer?' or 'Tell me what you know', we change the narrative by starting from a different point of inquiry -
How much agency do you feel you have in your life right now?
Where, when and with whom do you feel you belong most?
How often do you feel you are being supported to learn from a place of deep curiosity that cultivates your creativity?
How well do you think you can discern bias, deception and truth?
How embodied do you feel as you move through your learning and life?
All these questions underpin my preferred future for our 2040. Learning systems which resonate deeply with a human-centred education that embeds five priorities: Agency, Belonging, Creativity, Discernment, Embodiment.
Transforming education with priorities
These five priorities support us to cultivate more purposeful experiences, environments and ecosystems that lead to collective thriving. In this evolving digital world we should also become more fully human. We will be augmented by god-like technology that will make us increasingly superhuman. So why do these priorities matter?
Agency - According to global expert Charles Leadbeater, "Agency is about acting rather than to be acted upon; shaping rather than to be shaped; and choosing rather than to accept choices decided by others. That requires an orientation toward the future, a meaningful plan, an awareness of one's environment and the ability to connect and collaborate with others." The role of agency is supported by many learning theories, such as 'self-determination theory' which positions it as a key aspect of wellbeing and learning.
Belonging - Psychologist Carl Rogers defined it over 70 years ago as a "unique and subjective experience that relates to a yearning for connection with others, the need for positive regard and the desire for interpersonal connection." Schools that emphasise belonging and create intentional environments for its cultivation reduce school attrition rates, truancy and school violence. At the opposite end, a low sense of attachment to school has been linked to school shootings, suicidal ideation in adolescence and youth radicalisation (Allen, K. 2019).
Creativity - One of the best interpretations of creativity comes from a mentor of mine Larry Rosenstock, founder and leader of High Tech High for 20 years. "It is the power of making something that wasn't there before". Prof. Richard Foster adds that "creative solutions are insightful, they're novel, they're simple, they're elegant, and they're generative." Creativity is a driving force that moves the world forward and is the only true source of sustainable growth for any organisation. In education creativity is a core human disposition and schools that support creativity are happier and more fulfilling places to be.
Discernment - The role of critical thinking has never been more important, especially as open-source AI proceeds at such a high pace where it is impossible to discern without critical analysis what is true and what is false. Our ability to understand and make sense of our world is crucial. Amongst an increasingly digital world, it is the skill of discernment that must be explicitly and repeatedly taught throughout school.
Embodiment - As Sir Ken Robinson once quipped, 'we sometimes think our body is just to move our brain around'. The ability to attune to our body and activate a relaxation response in a stressful world is a critical skill. To practise embodiment we can undertake contemplation in many different forms. We can utilise techniques that tap into our parasympathetic nervous system which lowers our levels of stress and increases our awareness. It can even shift our brainwaves into a state of relaxation and repair.
The bottom line
Humankind has always needed to develop deep social bonds and emotional connections to survive. Our wellbeing is fundamentally dependent on multiple dimensions. Our physical, social, emotional, intellectual, cultural and moral dimensions all interact in dynamic and complex ways to shape how we experience our learning and our life. This multi-dimensionality is what makes us uniquely human. Honouring it equips us for a 2040 future of work and for a more fulfilling life.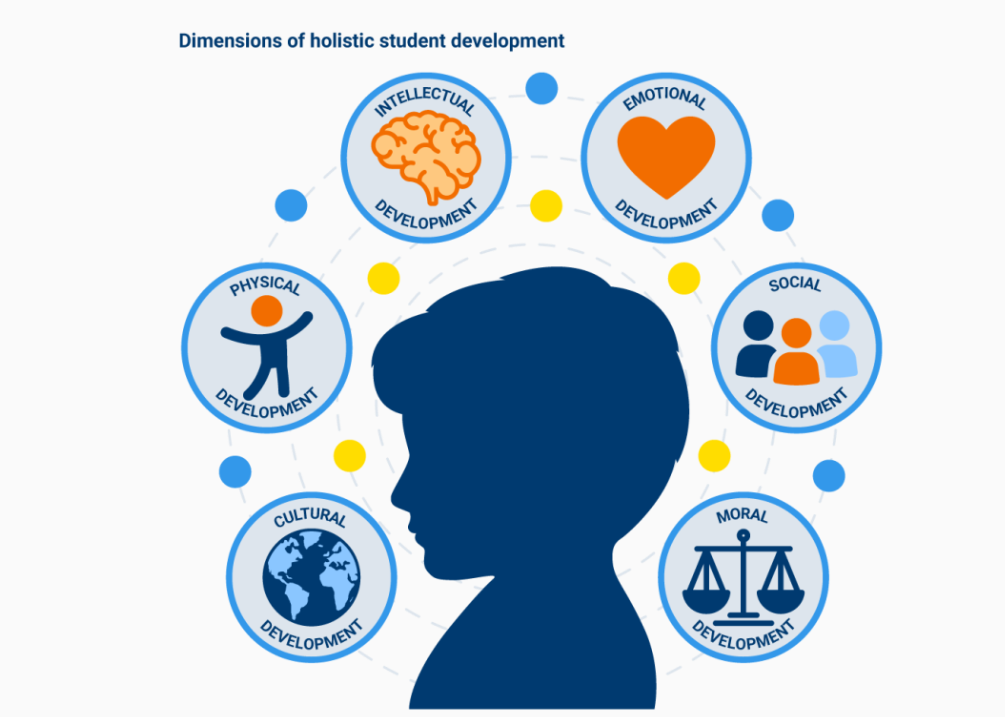 Brookings Institution, Amanda Datnow et al. (2022)
---
References
1 Leadbeater, C. 2017, Learning to Make a Difference, Centre for Strategic Education
2 Datnow et al., 2022 Transforming education for holistic student development: Learning from education system (re)building around the world' Brookings Institution
3 Allen, K. 2019 Making Sense of Belonging, InPsych magazine https://psychology.org.au/for-members/publications/inpsych/2019/june/making-sense-of-belonging
4 Voros, J 2017, 'Big History and anticipation: Using Big History as a framework for global foresight', in R Poli (ed.) Handbook of anticipation: Theoretical and applied aspects of the use of future in decision making, Springer International, Cham. doi:10.1007/978-3-319-31737-3_95-1,
Further reading
---

This work is licensed under a Creative Commons Attribution-NonCommercial 4.0 International License.