Welcome to Civica
2019 Annual Review
Building the software that improves public services around the world
We're proud to be one of the UK's leading software companies. Our software helps deliver improved public services and better outcomes for people and communities around the world.

Providing the software for
2.5

m
professionals

Supporting vital services for
90

m
people

Producing
18
years of unbroken growth
Group business highlights
During the year to 30 September 2019 the Group extended its long-term record of unbroken growth into an 18th year.
Group revenues
£

425.6

million
Increased by 14%
(2018: £373.2 million)
Group recurring revenues
£

215.2

million
Increased by 14%
(2018: £189.2 million)
Group EBITDA*
£

89.1

million
Increased by 15%
(2018: £77.7 million)
* Earnings before interest, taxation, depreciation and amortisation
Four year growth chart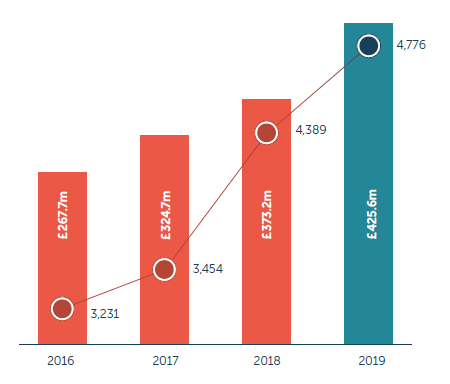 Chairman's introduction
With our increased momentum in cloud, digital enablement and data analytics to support improved public services, the outlook is very positive.


Simon Downing




Chairman
With a clear focus on helping our customers to improve public services, we continued to expand our business and create new opportunities during 2019. As one of the UK's largest software companies, I'm delighted we had another successful year delivering for our customers. Despite a more challenging environment, we've extended our unbroken record of strong and profitable growth into an outstanding 18th year.
While expanding the use of Civica software we have increased momentum with strategic developments focused around cloud, digital enablement, technology innovation and data analytics, to help customers meet rising expectations to transform digitally.
We accelerated the adoption of cloud software applications, which accounted for two thirds of major sales and positions us well for future growth.
With an increasing reliance on software to improve public services, Civica is well positioned to support our customers' needs and their digital ambitions.
We are proud of our genuine and purpose-driven culture and as we expanded to almost 5,000 employees, we maintained our position as an employer of choice with high employee ratings globally.
I would like to thank all of our people for their outstanding contribution and to thank our customers for their continuing trust and commitment.