Marine Learning Alliance College deliver degrees without internet with Civica Learning
Marine Learning Alliance (MLA) College transforms the learning and support they provide to disconnected students. Winner of the 'Best Online Distance Learning Programme' at the Learning Technologies Awards.
The challenge
Adam Corney, Commercial Director at the MLA College explained, "With students in over 50 countries, some of whom regularly travel globally on board ships, we identified the need for a proven, flexible and modern way to deliver our educational programmes to academic students and marine industry employers."
"Delivering up-to-date learning materials to students, most of whom are often disconnected from the internet for long periods of time, had become one of our key challenges."
The solution
To provide a truly innovative training programme, Civica Learning (formerly Agylia) was selected as the platform to deliver the MLA College mobile learning App. As part of the students' education and continuing professional development (CPD), the MLA College mobile learning App provides students with access to the latest learning materials, including narrated videos, demonstrations and reference documents on iOS and Android tablet or smartphone devices.
Due to the nature of the disconnected learning environment – where students are located or travelling without internet connectivity – learning materials can be downloaded while the device is online, with content saved for offline use. The MLA College mobile learning App ensures students can access the latest learning materials, wherever and whenever required.
"Being able to provide the latest learning materials via the MLA College mobile learning App is invaluable," added Adam. "It means our students are able to study for their qualifications, while leading their busy lifestyles."

Adam Corney,
Commercial Director,
MLA College
We require an innovative mobile learning solution to support our students and to provide them with a great learning experience. Civica Learning provides that powerful and flexible mobile delivery infrastructure – one that will grow with us into the future.
Civica mobile learning App enables the MLA College to deliver a variety of learning materials, including eLearning courses, videos, Office and PDF documents to their students. Latest news and content update notifications can also be delivered directly to the App, providing an engaging communications channel between the MLA College and their students.
The MLA College mobile learning App has a clear and easy-to-use interface, fully incorporating MLA College branding with a consistent look and feel.
The MLA College's range of learning materials is hosted on Civica Learning. The scalable nature of Civica Learning gives the MLA College a modern and secure learning infrastructure, with no limit to the amount of learning resources they can deliver or the number of students they can reach.
Civica Learning's intuitive user experience means learning materials are easily uploaded by MLA College staff and targeted to specific learner groups. The MLA College can define curriculum pathways as a student progresses through a qualification while mandatory, optional and sequential completion of learning materials can also be easily allocated.
"With students enrolling and starting undergraduate or postgraduate syllabuses in hydrography, or studying our brand new MetOcean Awareness course at various times throughout the year, we needed a solution that enabled us to deliver selected pieces of learning materials to particular students or groups," said Adam.
In addition to conventional SCORM data tracking, Civica Learning incorporates an Experience API (Tin Can) Learning Records Store (LRS) that can capture a wide range of learning experiences, including those via the MLA College eLearning App.
Even while a student's device is offline, their learning experiences – including content views and assessment completions – are being tracked. When the device is next online, tracked data is automatically and seamlessly synchronised with Civica Learning. This enables the MLA College to track and report on a significantly richer set of learning experiences, giving them a greater understanding of students' development paths.
Mentoring plays a key role in MLA College's learning programmes. Using Civica Learning's Action Based Learning feature, tutors can assign tasks and learning activities to an individual or group of students. Tutors can review a student's progress through the assignment – including any supporting documents that are uploaded - while providing feedback and support, in addition to directing students to extra learning resources and materials if required.
Action Based Learning has provided the MLA College with a great one-to-one communication tool between tutors and students, enabling the MLA College to deliver a personalised learning experience to each student.
MLA College Mobile Learning App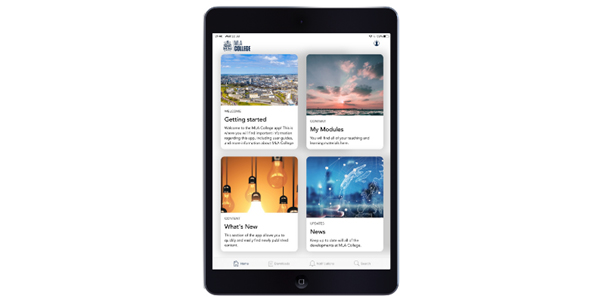 The result
The launch of the mobile learning App has had a positive impact on the MLA College's ability to deliver world-class education and training. They can now provide new or updated learning materials quickly and directly to their students worldwide – ready for use at any time, in any place.
MLA College went on to win the gold award for 'Best Online Distance Learning Programme' at the Learning Technologies Awards for 'Delivering degrees to seafarers without internet'.