IMarEST empowers professional development with Civica Learning
The Institute of Marine Engineering, Science & Technology (IMarEST) wanted an efficient and easy way for members to submit their CPD activities, and access their learning resources, wherever they are.
The challenge
IMarEST membership has become increasingly global and now spans more than 120 countries. To support members, on land or at sea, the IMarEST continues to invest in new tools and technologies to provide their members with access to knowledge and resources wherever they are.
IMarEST members undertake a commitment to engage in CPD. The Institute has long encouraged and supported its members to record their CPD, but a new requirement to undertake random sample monitoring of its members' CPD, introduced by the Science Council and Engineering Council, meant the IMarEST needed to find an efficient and easy way for their members to submit their CPD activities for review, and to manage the reviews, so that its volunteer CPD assessors could provide feedback to members.
The solution
Paul James, Chief Operating Officer at IMarEST said, "We had an existing tool for our members to record their CPD, but the Institute lacked a learning management system (LMS) to support member learning. This, coupled with the future requirement to conduct sample monitoring of CPD activities, led us to explore the possibility of having a single 'professional development' platform that could provide members with, an easy to use recording function and access to targeted learning resources - while also being efficient and flexible for administrators to provision and manage."
"This led us to partner with Civica Learning team to develop a truly two-way professional development platform, where members not only have access to their CPD record and targeted learning content, but can also be 'tasked' to undertake learning and development activities."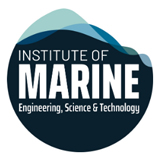 Paul James,
Chief Operating Officer at IMarEST
IMarEST Echo is enabling the Institute to support and encourage the professional development of our members, wherever they are, as they progress through their careers. The platform helps us to achieve one of our strategic goals, which is to promote professionalism and technical leadership by growing a knowledgeable, skilled and more qualified membership that can adapt to current and future challenges in the marine sector.
Civica Learning (formerly Agylia) was selected because of its ease of use for learners and administrators, and modern functionality, including support for mobile delivery and highly configurable user interface - which has been branded as IMarEST Echo. For learners in the marine industry, Civica Learning's App based mobile delivery options were particularly important, allowing for online and offline access.
Civica's partnership focus and custom-development capabilities were also key factors for IMarEST. Working together, they developed 'action based learning' - a way for IMarEST to set tasks (via the platform) for members to complete, which also enables members to select activities from their CPD records or upload supporting evidence to show progress and completion of the task.
IMarEST Echo learning platform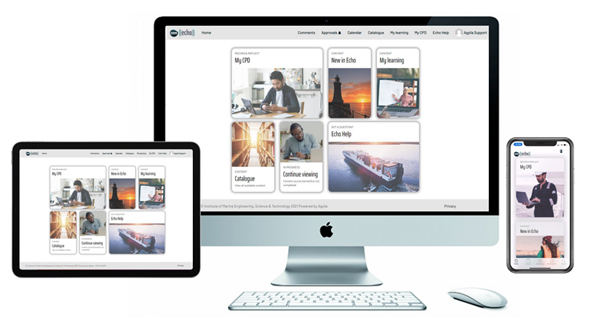 The result
IMarEST has a powerful, reliable and easy-to-use learning and CPD delivery infrastructure. With Civica Learning, IMarEST's small administration team can easily upload and target a wide range of learning content, including eLearning courses (created by IMarEST's learning arm, MLA College), lecture recordings, videos, events, PDFs and Word documents to support their distributed and growing global membership.
IMarEST members are able to access their learning content and action based learning (tasks), and maintain their CPD record via the online learner portal and the IMarEST Echo App - available for iOS and Android devices. Single Sign On has been set up, so members use their existing IMarEST logins and the App works online and offline, ensuring members can still access their content and maintain their CPD record wherever they are - even when at sea.
With the LMS and action based learning (tasks), IMarEST have benefitted from efficient, paperless workflows for not only their CPD monitoring requirement, but also for other independent learning and development that their members do - such as reading academic papers, watching videos or attending conferences and seminars.