Parago provides peace of mind that your school is an effective learning environment that is safe for all.
Our cloud school operations management system helps you save time and resources and improves the efficiency of daily processes.
Parago will help you to stay compliant, mitigate risks and improve the environment for students and staff. Strengthening the reputation of your school, trust or district.
Why choose Parago?
Save time and money through automation, pro-active asset maintenance and alerts for contract auto-renewals
Mitigate risk with risk assessment tracking for all staff and automated alerts and notifications
Build a platform for growth with standardised processes for new schools joining your trust and simplified onboarding
Our cloud school asset management software provides the freedom to manage multiple sites through one central system. Offering a secure database to store and manage all your assets and inventory, with access from any portable device for on the go checks and updates.
Choose from our Parago Schools / Schools Plus and Parago MATS / MATS Plus options for a flexible range of features that grow with your school or trust. Request an info pack to see what's included.
Parago our comprehensive school management software
Reporting

Quickly build and manage customisable reports to share with stakeholders across different sites.
Asset management

Manage your school asset register with ease. Parago is a complete management solution that effortlessly tracks, manages, and audits your assets, IT and inventory centrally.
Contract manager

Take control of contracts and contractors while reducing costs with our management software for schools.
Premises and compliance

No need to purchase separate school compliance software and facilities management for your schools; Parago takes care of everything by centralising your reports and records for asset management, school facility management and health and safety management too.
Risk management and forms

Create bespoke forms with our built-in risk management software to meet compliance requirements and maintain high quality records.
Incident management

Simplify incident management, track, manage, report and alert relevant people of incidents, from one central system.
Workflow manager

Manage internal workflows more efficiently with custom forms and centralised reporting. Giving you more flexibility when managing assets across multiple sites
e-Sign document manager

A central solution to distribute, manage, review, and renew policy documents needing signature from staff to ensure compliance.
Multi-school account manager

Our cloud school asset management software provides the freedom to manage multiple sites through one central system.
Helpdesk ticketing

Track and manage IT and premises requests with our built-in helpdesk software for schools.
Capital and project manager

Track and manage capital expenditure, budgets, and projects with our capital and project management tool.
Room and asset booking

Maximise the use of your schools' facilities with simple book and go classroom and asset booking software.

Pete Evens,
Estate Area Manager,
Meridian Trust
We are now in a position to asset manage all our schools across the trust and along with the site maintenance helpdesk in place, the ability to produce a whole range of reports at the touch of a button and the promise of more improvements, I would have no problem with recommending Parago to anyone.
Kent Catholic Schools Partnership
Parago helped this rapidly growing multi academy trust get to grips with asset management saving them time and money.
Read case study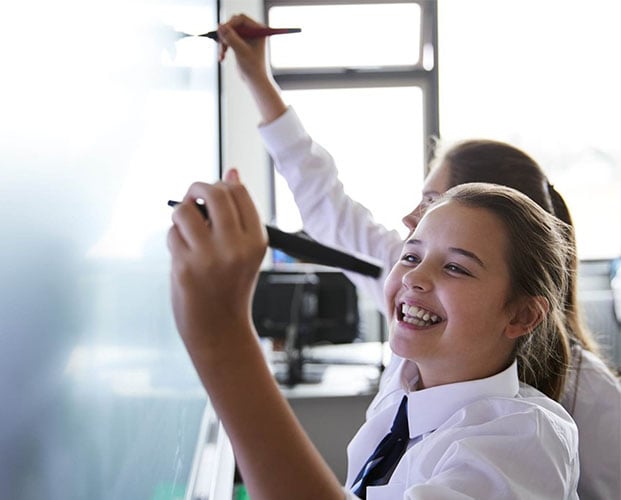 Lion Academy Trust
Future-proof asset estate valuation for this growing multi-academy trust.
Read case study