5 reasons the first Monday in February is the worst
Dubbed 'National Sickie Day', the first Monday in February is the day of the year which has traditionally seen the highest number of workers calling in sick.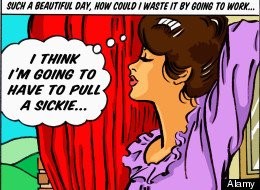 After noticing a rising trend in people asking for the first Monday in February off, employment law firm ELAS dubbed it "National Sickie Day" seven years ago.
ELAS expects around 350,000 people to call in sick this year, with absences due to cost the UK economy around £45m in wages, lost hours and overtime.
A survey by Kaloba® Syrup of 10,000 adults revealed that nearly four in 10 people have pulled a sickie because of a hangover and 13% have make the call in order to go shopping. While 27% say they have never been caught out, 3% have been caught by their boss in person.
Top reasons for pulling a sickie
39% have pulled a sickie because of a hangover
33% have pulled a sickie just because they fancied taking a day off
26% to stay at home with their partner
15% to go for a job interview
13% to go shopping
12% to avoid a meeting or deadline
9% to meet a friend
6% to watch a football or sports match
So why is the first Monday in February the worst for people calling in sick? This post looks at reasons the above one-off occurrences might develop into a pattern - and a problem - in your business.
1) A lax approach to absence
Head of consultancy at ELAS Peter Mooney laments the fact that many employers have 'drifted' into accepting text messages and emails from staff who plan to take the day off and are failing to challenge employees' reasons for absence. Such a lax approach towards absence can allow an 'absence culture' to flourish in the workplace, hitting morale and productivity at a time when most organisations need to be looking to find ways of boosting future growth.
Emma O'Leary, an employment law consultant at ELAS explains "As an employer you are perfectly entitled to challenge the authenticity of an absence; if an excuse seems too far-fetched then ask for evidence if appropriate. If you notice a pattern emerging then you should speak to the employee about their poor attendance and take proactive steps to action it."
Paul Tooth, CEO of HR consultants BrightHR, believes that applying fair procedure is the best way to manage time off amongst the workforce.
He said: "Sickness leave can be difficult for business owners to manage. Even if they have a suspicion that someone is 'pulling a sickie', they need to go through the proper procedures to ensure they don't leave themselves liable to potential costly employment tribunal cases further down the line. Keeping records of sickness, including correspondence and 'fit' notes where applicable, is the best way to protect a business from this."
2) Lack of business flexibility
Heather Garrod, a self-employed workplace coach and trainer who ran HS Recruitment (King's Lynn) for several years, believes most absentees are not trying to pull a fast one.
"The only time you'd ever witness anything like that is if there's something really special they wanted to do and they couldn't get the time off," she said.
"Of course, they're then potentially facing a disciplinary procedure.
"Generally speaking, it's down to the lifestyle that we live. Sometimes people over-stress themselves."
For others, especially the 'sandwich generation' who have care responsibilities for both parents and children, sick days are taken to compensate for inflexible employers.
3) Presenteeism
Rresearch from Canada Life Group Insurance found that nine out of ten employees still go into work when they are ill, citing high workloads as the top reason for this trend.
Presenteeism – coming into work without need, staying later than required or beating colleagues to the desk – is a working culture that doesn't receive as much attention as absence taken under false pretence.
Yet dragging yourself into work when ill spreads disease; Canada Life's research found that a whopping 73% of employees had become ill as a direct result of a colleague's illness.
4) Mental illness
Dr Jill Miller, Research Adviser at the CIPD, believes that, for some people, 'pulling a sickie' isn't just a day off under false pretences but a signpost for more significant issues.
It's likely that some unexplained absences may be due to mental health issues that employees may not feel comfortable telling their employer about.
Miller concludes: "On Monday, instead of going into work and assuming every employee who doesn't do the same is pulling a sickie, let it be a prompt to check whether you are providing enough flexibility for employees."
5) Looking for a new job
It has been claimed that many employees shirk work at the start of February because they are attending a job interview.
After using the Christmas holidays as an opportunity to re-evaluate their life and think about their job prospects, workers who are unhappy with their role often spend January considering their next move and then begin the interviewing process for new jobs in February.
Worst excuses given for absence
Needing to arrange a birthday party for a dog and not having any clean trousers were among the worst excuses given for absence from work last year.
That's according to employment law experts ELAS, who have compiled the most spectacular excuses heard by bosses in order to celebrate this year's National Sickie Day.
Among the worst excuses heard by bosses last year were employees claiming the dog ate their shoes, they were too drunk to drive and that they could not make it to work because they had been arrested.
One even claimed they needed to arrange a birthday party for their dog, while another said their only pair of work trousers was in the wash.
2015's most outrageous excuses included an employee claiming they had locked themselves in their bathroom, and a worker from Glasgow saying they missed their stop and could not get off the train until they reached London.
"These excuses might sound weird and wonderful but they are all genuine reasons we have from our clients over the last year," said Emma O'Leary, at ELAS.
The good news, however, is that while the number of people suspected of calling in sick continues to grow, the actual number of days they are taking off work is falling, as the faltering economy prompts managers to address problems of absenteeism more effectively.