Once you have made the decision to use our CESvotes software, you then need to think about the specific aims and goals of your organisation. As your digital space for election content, it's important to make a decision that will best support your organisation's needs.
What are your options?
Our standard CESvotes voting site has an intuitive design to create a voting experience that is straightforward and simple. The software is regularly updated with new releases and updates, ensuring our clients always have access to the best possible version.
The standard sites have a clean and uncluttered feel with content including; a client logo, voting instructions, as well as candidate or ballot information. For many of our clients this fully meets their requirements, while also proving a cost effective option.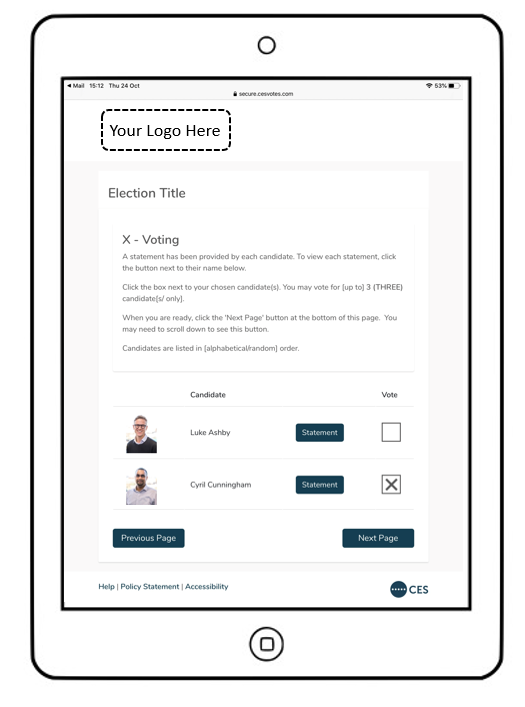 All of our CESvotes sites are mobile optimised and responsively designed to work across different browsers and devices.
We also include the CES watermark at the bottom of each page. As the UK's leading independent provider of ballot and election services, the CES brand can help to inspire trust and confidence in the election process, minimising the risk of a challenge.
What does the CESvotes Platform give that the voting site doesn't?
In short – better branding and engagement opportunities.
Many organisations invest a lot of time and money on branding, with detailed guidelines including colour palettes, button styles, typographic elements and tone of voice. Ensuring that the integrity of the brand is maintained as closely as possible, including on third party websites like the CESvotes platform, may be a major priority. If your organisation is focused on strengthening brand identity or ensuring a seamless voter journey, the fully branded and customisable platform is a great option.
Your election, or ballot, is also an important time to communicate with your stakeholders. Increasingly organisations are recognising that voting presents an opportunity for better engagement, providing an experience that reflects positively on your organisation as a whole.
The CESvotes Platform provides the following feature options, seamlessly wrapped around our secure voting site:
Fully branded site with images and colour customisation
Video recorded statements and animated explainers for lively communications
Social media integration
Document libraries
Nominations
Questions, feedback and data capture
Profiled turnout reporting for segmented engagement insight
Increasing demand for CESvotes Platform
In recent years we have found an increasing number of clients across sectors wanting to fully brand their digital space, opting for the CESvotes Platform. One such recent project saw us working with Leeds Building Society, one of the largest building societies in the UK. The ability for members to cast their vote online in a seamless way was very important to them. Working closely with the team at Leeds Building Society, we were able to develop and adapt our online AGM voting solution to deliver a positive user experience with an intuitive and secure voter journey.
Julie Lawman, Head of Secretariat at Leeds Building Society, said:
"Working with the CES team was a very positive and enjoyable experience. They quickly grasped our vision to deliver a voting website that would be secure, intuitive and engaging and they made sure it would work seamlessly with our corporate site."
The Association of Accountants and Technicians (AAT) is another organisation which has benefited from using the CESvotes Platform. AAT wanted an AGM platform with enhanced feedback functionality, a video from AAT's President, as well as supporting information about the governance changes. The site architecture was intuitive and the platform enabled members to submit qualitative feedback.
Karen Marshall from AAT, said:
"Having worked with CES for a number of years they were the natural choice to help us raise awareness and understanding of significant governance changes ahead of our AGM. The digital platform enabled the process to be managed online, enhanced our communications and ultimately raised member engagement. The success of the project, which was supported end to end by the team at CES, was evidenced by increased voter turnout and members' approval of resolutions presented – objective achieved!"
At Civica Election Services, we understand that every organisation has different needs. Whatever the priorities of your organisation, our experienced team of project managers will work with you, discuss your options and ultimately help deliver your democratic requirements.
Call us on 020 8365 8909, or contact us to find out how CESvotes Platform can help your organisation.
Civica Election Services
Making democracy happen - the UK's leading provider of election services, with over 100 years' experience of administering elections, ballots and consultation processes
Back to Civica Election Services