How your charity AGM can help build public trust
As charities continue to grapple with issues that have affected public trust in the sector, it's increasingly important for charities to take a proactive approach and embrace opportunities to demonstrate good governance, best practice and transparency. If managed effectively, your charity AGM can be just such an opportunity.
Has public trust in charities declined?
Over the summer, Third Sector asked people across the country for their thoughts on charities. Their responses were summarised as, "Charities do good work, but we don't like how some behave". That view seems to support the findings of the Charity Commission, whose 2018 report showed a trend of declining public trust in charitable organisations, now at the lowest level since 2005. Charities, the study found, are now "trusted less than the average man or woman in the street".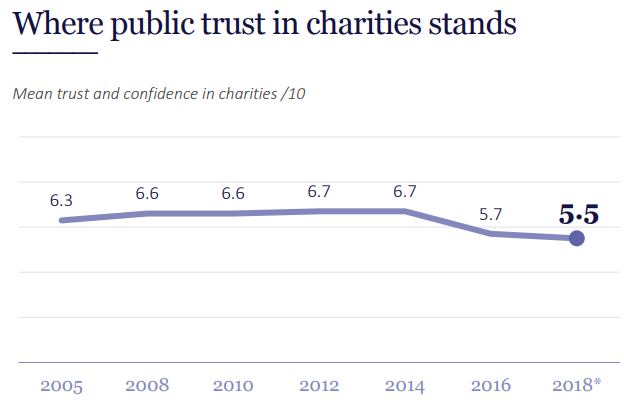 Grace Freeman, Policy & Communications Officer at ACEVO, points out that "a person in the street represents an indirect personal relationship, not a relationship with a social institution". Referring to another finding in the Commission's report, she argues: "The fact that the charity sector is the third most trusted institution, behind doctors and the police, suggests to us that the sector is actually doing ok."
After a decade of very public scandals in numerous sectors, perhaps the public has simply become less trusting in general. While the relevance and interpretation of specific results is open to debate, looking at the data from earlier studies shows an identifiable trend of a decline in public trust in charities – both in isolation and when compared to other sectors and institutions. It seems as though people are no longer giving charities the benefit of the doubt.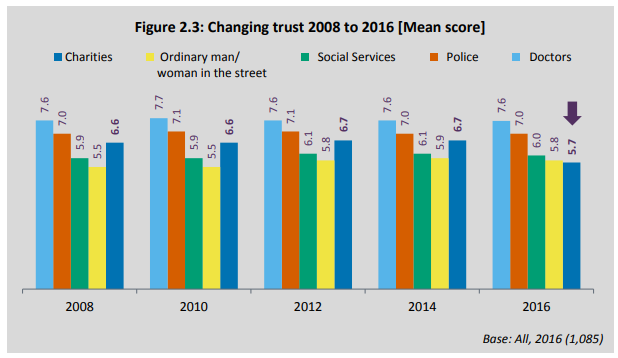 "Go back to the equivalent research in 2012 or 2014 and charities were getting a strong 6.7 out of 10", explains Aidan Warner, External Relations Manager at NCVO. Trust in charities hasn't recovered since that sharp fall in 2016, so what can charities do to rebuild public trust? Warner points to the 2018 report's analysis of factors which make charities trusted – "the Commission's researchers found that showing details about regulation, impact and spending increase people's level of trust in a fictional charity".
Good governance, best practice and transparency
While individual charities have to address specific issues, all charities can take a proactive approach to help rebuild public trust and confidence. Encouragingly, the sector is already working in this direction. Last year, a cross-sector steering group published the Charity Governance Code to help charities and their trustees develop high standards of governance, while the NCVO has just finished a consultation on their draft Code of Ethics.
Both of these codes are intended as practical tools to help charities proactively implement best practice. The Governance Code identifies two key ways in which good governance is fundamental to a charity's success: "It enables and supports a charity's compliance with the law and relevant regulations. It also promotes a culture where everything works towards fulfilling the charity's vision."
The Governance Code sets out seven core principles, along with their rationale, key outcomes and recommended practice charities should apply to meet them. Under the principle of openness and accountability, recommended practice includes communicating and consulting effectively with stakeholders, developing a culture of openness within the charity, and membership engagement. A charity's AGM presents a golden opportunity to put these practices into action.
Our Insider Guide to Charity AGMs, Proxy Voting & Elections
Civica Election Services helps hundreds of Charities, Associations and Membership Organisations to deliver good governance around key elections, issues and decisions. We provide impartial, fair advice and expert project management for charities holding an AGM, EGM or SGM to ensure voting is easy and secure. Drawing on this experience, we've put together a brief guide to help charities make the most of their AGM. We hope you find it helpful, but if you'd like to discuss your specific requirements in more detail, please do contact us.
Does my charity have to hold an AGM?
Not all charities are required to hold an Annual General Meeting, but where an AGM is not stipulated in their governing document, a charity's trustees may still wish to consider holding one to assure members and stakeholders that the charity is being open and transparent. It goes back to that principle of openness and accountability, but if in doubt check your governing document.
For many charities, their AGM can represent a significant financial and administrative burden, particularly for those with limited staff resources. Failing to follow the correct procedures can cause concern amongst the charity's members, stakeholders or the wider public and can have wider ramifications. Taking an approach that combines a cost-effective process with positive engagement will help to ensure your charity gets the most out of holding its AGM.
Finding ways to ensure the AGM runs smoothly while maximising membership engagement is key. Using an experienced, impartial and independent scrutineer like CES to administer your AGM and proxy voting can contribute significantly both to the smooth-running of the voting process and to stakeholders' confidence in the integrity of the outcomes.
Engaging your membership
Letting members know about your AGM in good time, making the relevant documents easily accessible, providing information about candidates for election and resolutions to be considered, and explaining how the AGM voting works are all vital to the success of your AGM.
Charities now have a wide range of channels they can use to communicate about their AGM, from social media to raise awareness and build interest, their website and blog posts to provide more detailed information and updates, to newsletters (print or electronic), emails and postal packs to their membership with full details and ballot papers.
We know what it takes to engage your membership. We work with our charity clients to design their election materials and advise on messaging, the use of colour and the best combination of digital and postal voting channels for their audience.
Managing your proxy voting
While your communications may focus on the importance of the AGM and encouraging member attendance and participation, you will also want to ensure that members who cannot attend the AGM in person are aware of how they can participate through proxy voting.
For charities with national and regional branches, the preparation and distribution of AGM voting packs (paper, electronic or both) to all members before the AGM may require careful management, with members eligible to vote in some elections and not others. It can be a costly process, so it helps to work with an experienced provider who can manage it from start to finish, including the design, print, and mailing of AGM election materials.
Many charities we work with now choose to offer their members an online voting option enabled using our CESvotes software. We design, manage and host an online voting website and provide randomly generated codes for secure online voting. The website is branded and tailored to meet the charity's specific needs. Charities may have members who initially prefer to vote by post. To encourage more to vote online, it is important that the process is as intuitive and accessible as possible.
Online voting with a dedicated AGM website
A dedicated AGM voting website can be a more cost-effective alternative to postal mailings, or can work in tandem with them, but there are other advantages too. The site can offer a central hub to host information about the AGM, giving members access to everything they need regarding candidates, resolutions, timescales, voting and related material. Some charities use the online voting platform to manage their nominations as well as elections.
There are also some useful additional features including video and live streaming. From candidate video statements to explainers for specific roles or a call to action from the CEO, a good mix of content can help to maximise engagement in your election. Real-time analytics and dynamic reporting also provide valuable insights including the ability to monitor turnout levels.
Managing AGM Voting on the day
On the day of the AGM itself, an independent scrutineer can be present to register members, issue voting papers where necessary, conduct the count and provide the official and independently verified results. Some organisations we work also opt to use handheld voting devices, which can be quick and easy to use for members and offer immediate and accurate results.
However you manage your charity's AGM, you can use the opportunity to help build trust and confidence by ensuring it runs smoothly, maximises membership engagement and has a voting process that delivers results your members, stakeholders and the wider public can trust.
If you would like to speak to one of our experienced Charities sector team about your next AGM and Trustees Election, call us on 020 8365 8909, email us or make an online enquiry today.