Tech to boost human approach to onboarding
Organisations need to onboard employees effectively if we're to retain the best people says Civica's Howard Watson
The importance of onboarding can often be overlooked or misunderstood. Yet the cost to businesses in vacancies, lost production, hiring, training and retaining the correct staff is astronomical. We tend to look at how much recruitment costs but not the price of failed onboarding.
According to Growth Business, "the true cost of hiring staff is almost double their salary during the first year of employment." From covering salaries to office space and equipment, research revealed that new hires cost twice their annual salary in the first year.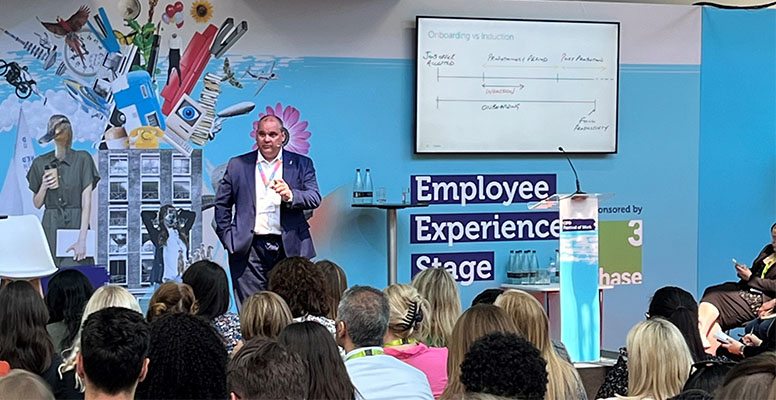 Effective onboarding is obviously a hot topic. At the recent CIPD Festival of Work, we hosted a packed session looking at onboarding with people wanting to learn how to do it more effectively. Post-pandemic, we've seen a huge rise in remote working, which in some ways has made onboarding more difficult. Remote workers may only initially be in an office, so employers need a strong programme of onboarding activity, with frequent and more detailed touch points.
When we talk about onboarding, most people tend to immediately think about external hires. In fact, onboarding applies well beyond this – and covers every transfer within a company. From internal reshuffles and promotions to freelance contractors joining an organisation for a relatively brief period of time, or at an organisational level, where onboarding also applies to mergers and acquisitions within a business.
Engage early and get personal
Onboarding is not induction. While induction is certainly part of onboarding, we should understand the differences. Induction tends to go hand in hand with top-down compliance – and is normally the responsibility of the people/HR team. It covers practical/technical integration such as how to claim your expenses and book your holidays – with a short term, operational focus.
On the other hand, onboarding is a cultural, social, ethical and human approach. It is better suited to be applied in a decentralised manner so it needs to be the line manager's responsibility and should be considered long-term and strategic. It should also be far more personalised to the needs of the individual and their specific role.
This process begins very early on – literally from the moment a new hire accepts their job offer – and it should end when the new hire is at the point of very near 'full productivity' - and you are assured that you have sufficiently reduced the risk of a failed onboarding.
This is a real opportunity for engagement. Onboarding covers the pre-employment communications to the new starter, the induction, the inclusion into the performance management system and all the knowledge, cultural and personal touchpoints until the time that the new starter is 'job-ready.' This means that it often extends beyond the probation period and will differ from person to person.
We also need to provide support for the hiring manager to achieve onboarding success. Too often we take for granted that they will know exactly what to do, but we do not train them in onboarding. Too often onboarding fails, not through lack of effort but through lack of knowledge or time. By supporting the hiring manager, we give them the tools to succeed in a measured and repeatable way.
Taking a tech approach
People are used to easy access to technology in every aspect of modern life – and onboarding at work is no exception. Online Learning Management Systems can really help with the full onboarding process. These platforms provide video and training guidance which can be tailored to each individual workplace, helping line managers to create their own content, adding as many modules as they need.
This gives line managers clear, defined and repeatable information which can also be tailored to individual roles and needs.
People can access this training both online and offline: you can even make it available as a QR code in the offer letter as a way for people to start engaging straight away, so when people turn up on day one, they already have a head start.
Taking this approach will ensure we are engaged in people focused rather than job focused onboarding.
By combining easy-to-use technology with the human approach, organisations can ensure successful onboarding, more engaged employees and ultimately lead to a more fulfilling career within any organisation.
Howard Watson is Divisional Director, People and Workforce Management at Civica
From hiring to training, payroll to talent management, Civica enhances your people processes. We can help you find new talent, keep people engaged and take away the admin from HR.