Delivering the best solutions to meet your needs
Trusted by 90% of police forces, Civica is the leading ANPR and PNC solutions provider in the UK. We supply hardware, software, support and maintenance for all aspects of ANPR to help you create the required infrastructure.
As a supplier agnostic organisation, we build strong relationships with customers and UK supply chain to deliver the best solutions to meet individual force's requirements.
Our nationwide team of highly skilled, experienced ANPR engineers provides 24/7 support and maintenance, helping to ensure maximum system performance and mitigate the risk of data loss.
Why choose Civica ANPR
Supplier agnostic, delivering the best solutions
All your ANPR needs in one place
Nationwide support and maintenance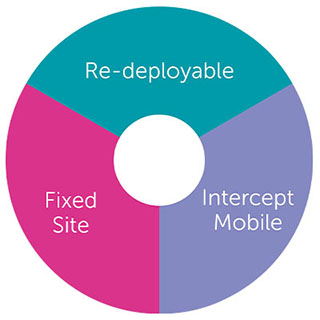 Create the ANPR infrastructure you need with Civica
We work closely with our customers to deliver tailored solutions to meet individual requirements, our solutions include:
Fixed Site ANPR

Highly effective with unbeatable accuracy, fixed site ANPR solutions enable Law Enforcement Agencies to monitor and capture ANPR data consistently from a fixed location. We can recommend and supply the most suitable fixed-site ANPR solutions to meet your needs, helping you work effectively for a wide range of operations. This includes robust devices with 3G/4G and LAN connectivity.

Fixed Site ANPR solutions include:

Multi-lane ANPR cameras (ANPR and colour overview cameras in a single housing)
Compliant with NASPLE (National ANPR Standard for Policing and Law Enforcement) and UTMC (Urban Traffic Management Control)
Integrated communications systems
Performance testing software
Intercept Mobile ANPR

Capture and analyse ANPR data and live video feeds at any location to respond to specific threats or situations. Video footage is securely stored in the cloud, ready for access to support your operation or evidential requirements . We supply, install and maintain a wide range of robust and durable mobile ANPR hardware, integrating with vehicle manufacturers' technology and vehicle screens to minimise installation time and costs.

Intercept Mobile ANPR solutions include:

Simple tablet and MDT based control applications
Internal and external ANPR and overview cameras
Speed enforcement and audio detection hardware
Re-deployable ANPR

Re-deployable ANPR offers tactical flexibility during specific operations. Connected to your control room using integrated 3G/4G, our Re-deployable ANPR cameras can cover multiple lanes at the same time. The cameras can be battery operated to provide flexibility in remote or rural areas.

Re-deployable ANPR systems are quick and easy to set up and deploy:

Pan-tilt-zoom control for CCTV operations
Colour cameras and night-vision technology
Fast, reliable IP video streaming
We have delivered ANPR systems for customers including:
Working in partnership with the following organisations
Find out more about how Civica can transform the way you work