Advancing cloud solutions and digital enablement
Our market is shaped by the need to provide an improved experience for both people and professionals to extract greater value from data.
We aim to bring about an ambitious vision for our customers through the use of innovative and cloud-based software, digital solutions and data expertise.
During 2019, we accelerated the Group's strategic development, strengthening our resources and capabilities organically and through acquisition and advancing cloud solutions, digital technology and innovation.

Expand use of Civica software and progress innovation
20% of revenue invested in software development

Accelerate adoption of cloud software and digital solutions
More than 3,200 cloud customers

Enhance employee and customer satisfaction globally
More than 98% customer retention

Expand business activities globally on existing platform
Five new acquisitions adding cloud software assets
Market leading products and services
Civica has a strong track record as one of the UK's leading software providers, driven by a clear strategy to help our customers address rising expectations and sustained change.
This strategy is focused around our broad cloud software capability and providing digital solutions and managed services to improve operational service delivery and support technology-based transformation.
A complete software platform for public services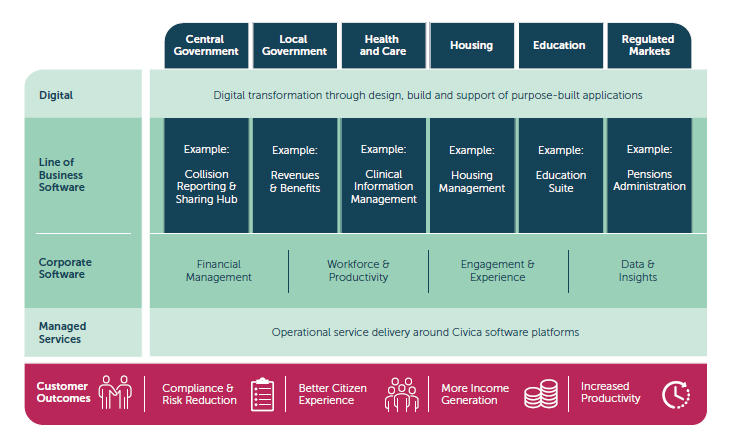 Improving public services with cloud and innovation
Cloud is a fundamental pillar for digital transformation and innovation, helping organisations to tap into the enormous opportunity of emerging technology in areas like digital engagement, AI and automation.
Our vision is to harness the potential of digital, cloud and data together to support customers' transformation journeys. We've significantly increased the adoption of cloud software to support customer migration to the cloud.
3,200 customers using cloud
65% of 2019 major sales were cloud-based
30m users of customer-facing platforms
During 2019 we continued to drive innovation across the business and launched Civica North Star, our new innovation lab. North Star provides enhanced focus to accelerate innovation and harness the application of new ideas and technologies for customers.
Sustaining our development
In 2019, we continued to focus on activities aligned to the five pillars of our development strategy. This includes attracting the best talent, delivering new opportunities and innovations to drive better outcomes for our customers and strengthening our robust operating platform.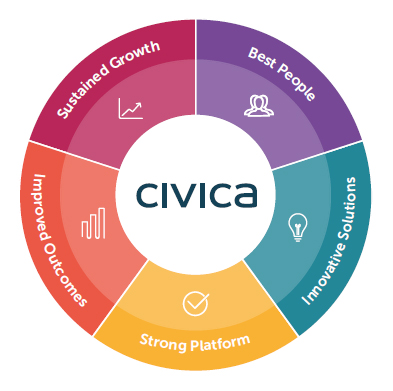 A strong foundation for growth and innovation
Alongside strong progress with customer business activities, we've continued to develop our platform to support our sustainable growth with multiple initiatives to ensure consistency and performance globally.
Highlights
In Vadodara, India, we've grown significantly from 60 employees in 2016 to over 500 today, supporting our global business with software and innovation expertise as well as back-office services.
We strengthened our focus on growing the use of Civica's software across borders. With four UK-developed products launched in Asia Pacific to address similar market requirements, we won new customers and grew our sales momentum.
We launched a new sales programme in 2019, focused on maintaining a high-performing sales culture, with key elements including enhanced sales leadership and sales team effectiveness.
Acquiring new software capability and innovation
Acquisitions remain a core element of our strategy to extend software capability and innovation in response to evolving customer needs and market developments.
With a proven platform, we continued to add new cloud software assets and capabilities during 2019, complementing organic growth and strengthening our market position. Civica has acquired and integrated 25 highly complementary businesses since 2015, underpinned by effective discovery and integration processes.