The Professional Golfers' Association sees CPD engagement increase by over 170% with Civica Learning
The Professional Golfers' Association (The PGA) wanted a modern digital approach to provide members with the latest learning and CPD experiences.
The challenge
The PGA leads the ongoing development of education programmes offered to PGA members across many aspects of golf coaching, business management, equipment and technology, as well as sports science and personal wellbeing.
To enhance the service it provides its members, The PGA sought a modern digital approach to provide members with the latest learning content and the ability to record, track and submit their continuing professional development (CPD) activities.
The solution
Mark Skinner, Head of Business and Management Department at The PGA said, "Modern day PGA Professionals specialise in much more than playing and coaching. We identified Civica Learning as the best tool to provide our members with a central forum for knowledge sharing and development, which supports members as they deliver the highest level of service to the golf industry."
PGA Learn combines Civica Learning (formerly Agylia) with extensive CPD capabilities customised around the core needs of The PGA and their members.
Using PGA Learn, The PGA can provide their members with a wide range of digital learning content, including eLearning courses, videos, articles, webinars and web links.
PGA Learn is providing members with greater flexibility in how and when they consume content. For example, PGA Live webinar recordings are available on PGA Learn after the event – allowing members to view the recordings at a time that's convenient for them.
"Our vision for PGA Learn is for it to be the Google of personal development for the golf industry. Members should only need to search PGA Learn to find what they need to develop themselves. In addition to creating our own content for the platform, we're also able to carefully select and curate third-party content from a range of golf industry partners and experts to share with our members."
"Since moving to a digital learning approach, we've been able to reach partners and experts, and provide our members with a range of content that would not have been possible with our old face-to-face training offering."
As part of The PGA's 2020 Vision initiative, they introduced new membership categories and groups to highlight member specialisms and to bring those working and volunteering in the golf industry under the umbrella of The PGA.
"Using Civica Learning, we're able to easily create learning pathways and assign relevant content, which is mapped to the specific requirements of our membership categories and groups. The use of learning pathways has increased content engagement and the time members stay on the platform."
PGA Learn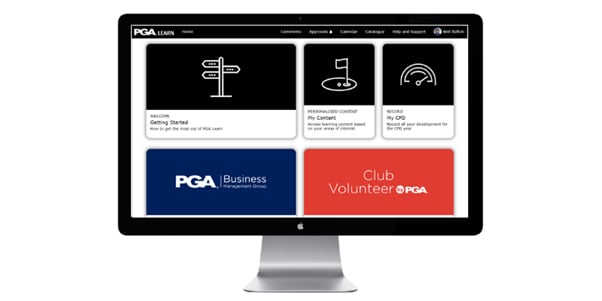 The result
Prior to PGA Learn, mainly face-to-face training and qualifications were only recognised as eligible to go on PGA members' CPD record. Using the CPD capabilities of Civica Learning, PGA members are now able to take ownership of their CPD by recording all types of learning, including digital learning content on PGA Learn (which is automatically recorded), and learning activities done outside of the platform, such as work-based learning, private study, or attendance at in-person or online events. All learning now forms part of a PGA member's CPD record.
With its ease-of-use, PGA Learn has resulted in more members recording their CPD activities when they occur, throughout the year, rather than waiting until deadline day to complete and submit their CPD records. With greater visibility of their members' records, The PGA can prompt members to update their activities.

Mark Skinner,
Head of Business and Management Department at The PGA
Having a digital learning and CPD offering is enabling us to connect with even more of our members, especially those outside of the UK. Since the launch of PGA Learn, we've seen an overall increase in CPD engagement of over 170%.
Dr Paul Wiseman, Executive Director - Education at The PGA said, "Civica Learning has enhanced the value of services for our members and transformed the way they view us as an organisation."
Comments from PGA members:
"I like this online platform for learning! Makes for much easier access to learning and progressing my career."
"Good to see CPD is now changing. Progressive and recordable".
"I think this is a great new system. Modern and much more in tune with a modern PGA Professional."