As part of Civica's continued investment in innovation and technology, we held our first technology-focused graduate event.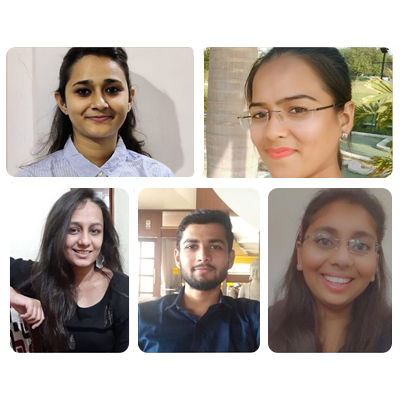 In May, the best Civica's graduate talent came together to showcase their skills at Civica's 1st edition Graduate Hackathon. With four teams shortlisted, this two-hour action-packed virtual event witnessed great minds at work as they developed fantastic solutions to enhance a variety of business processes, including interviewing, 360 degree performance feedback, competency framework and internal job posting. The objective of the event was to automate manual processes currently handled by members of our Vadodara team.
The winning team D- Coders, which included Sarasvati Gohil, Pooja Tapkir, Sahil Maiyani, Shivangi Mistry and Devanshi Raval, showcased their automated internal job posting (IJP) platform, which created a transparent and seamless process for its users - future applicants and Civica's recruitment team. The solution included a complete internal job posting process with multiple modules, offering. users complete visibility of open vacancies and managing the online application process, while also facilitating the scheduling of interviews and feedback. Users were also able to track the status of their application with the help of notifications through Microsoft Teams and Outlook.
As part of the event's jury member, Elizabeth O'Driscoll, Civica's Head of Innovation, was thrilled to witness the solutions showcased by the graduates:
The fantastic work showcased by the teams demonstrates what can be produced by our newest minds when given the support, space and insight to address the challenges we face. I was really inspired by what had been achieved in such a short space of time. The projects demonstrated the strength of culture at Civica, team work and encouraging each other to think bigger. I was particularly impressed by the unflappable nature of the teams when faced with stalling demos, this will stand them in good stead for the future."
While highlighting the need for such events within Civica she added:
We can all learn a lot from these types of engagements, the graduates, the mentees and the business judges. Fresh ideas can come from everywhere and with events like this we have the opportunity to share our collective experiences and learn from each other."
Speaking on Civica's in-house innovation lab Civica NorthStar, Elizabeth added:
Through NorthStar we aim to support these types of events and increase their frequency and scope, including working across our global business to look at some of the biggest challenges our public services, and society, faces. I look forward to being involved in many more activities with current and future graduates as well as my wider colleagues."
Winning team member Pooja Tapkir was elated and shared her experience of participating in the event:
It was great opportunity for us to expand our skills and learn something new which was unknown to all of us. We knew there'd be many consequences and the challenges to develop the application within a short period of time, although we decided to take the risk and we geared up to work upon it. Special thanks to our mentor Sunil Soni for his constant support and guidance."