Taking Pride in Vadodara
A group of colleagues from our LGBTQIA+ Affinity Group in India have taken part in the Vadodara Pride March, organised by the Lakshya Trust
Prajakta Bhogle, Internal Communications Manager at Civica (top image, far right) went along to her first Pride event and shared her thoughts from the day...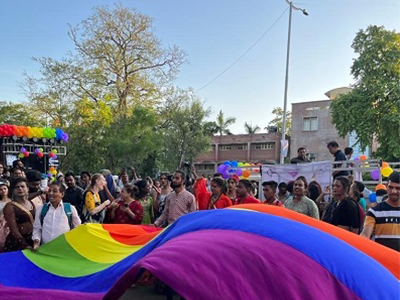 "Being an ally for the LGBTQIA+ community has been one of my life's greatest joys. I've felt immense pride in being part of a movement that stands for acceptance and love. Attending my first Pride Parade as an ally was an unforgettable experience, it was such a beautiful and inspiring event that filled me with hope for the future.
"One of the most touching moments for me was seeing the parents of young LGBTQIA+ community members holding signs of support and encouragement. They were there to show their children that they are loved and accepted for who they are. They were also there to educate others about the challenges and joys of raising LGBTQIA+ kids.
"I also admired the confidence and maturity of the LGBTQIA community. They have faced so much discrimination and violence in their lives, but they have not given up on their dreams and rights. They have fought for their visibility and recognition in society, and they have created a strong and supportive network among themselves."
In 2022, Civica launched its global Affinity Groups to support colleagues to effect positive change and seek support. From working parents to early careers, race and ethnicity, the LGBTQIA+ community and menopause issues, around 20 groups now represent protected characteristics and support any underrepresented community which feels a sense of marginalisation in the workplace. You can find out more here.