This Pride Month, we speak to Simon Elliott in Civica's Central Government team about what Pride means to him, fatherhood and the importance of being visible.
What does Pride mean to you?
When I first came out as gay 18 years ago, I was very anti-Pride. I was quite ashamed of who I was. Although most people accepted the news, some key family members took a little longer to come around. I remember telling a gay female colleague that I wouldn't be coming to Pride since I was gay and didn't need to shout about it in the streets!
This is not how I feel now. I now very much accept other people's opinions on LGBTQIA+ matters, but I will give a good argument as to why I should be able to have the same rights in life as everyone else.
Three years ago, my husband and I were asked by our friends' 12-year-old daughter if we would take her and her friend to Bristol Pride. We had an amazing time. Rainbows painted on our face and everything! I remember welling up seeing the logos from companies who were supporting Pride, but also observing the heterosexual couples walking in the march with young children, as well as those from the LGBTQIA+ community.
Now that I have a son, Pride is about being inclusive and accepting.
Tell us about your adoption journey
My husband and I began the process in 2017 and met our son for the first time a year later. It was eye-opening: we had to reveal so much, from medical records to details about our childhoods and experiences. We also had to learn about the different challenges parents and children face today, helping us understand our son and his birth family even more. Being a daddy to my son is the most amazing job ever. There are challenges, but he brings light into our lives and loves having two dads.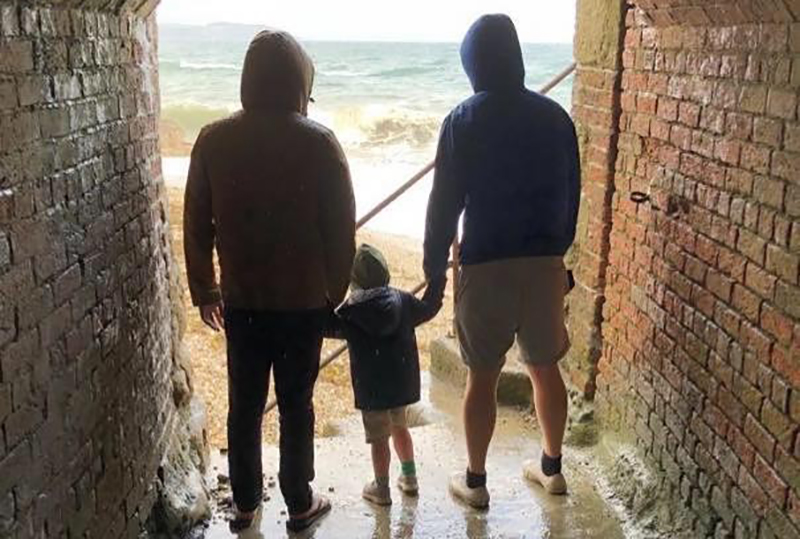 How did your Civica colleagues support you through the process?
Since adopting our son, my manager and colleagues were a beacon of support. I changed my schedule to allow for social worker sessions and last-minute days off to meet foster carers, etc. I also enjoyed four months of adoption leave to bond with my child. I could not be happier and more supported by the people around me at Civica.
Why is it important for LGBTQIA+ employees to be visible in the workplace?
Some people have to fight hard to fit in and be seen. It's vital that people are visible to ensure that others can see that there is no stigma or barriers to achieving your goals.
Have you ever experienced any microaggressions relating to your sexuality?
The only obvious ones I faced were at a previous employer. I got along well with my colleague and held them in high regard, but due to their own beliefs they would sometimes make comments that were homophobic, and I have never forgotten that. All this highlighted was that they had the issue, not me.
Any final thoughts?
I feel very proud to work for Civica. Not only did the company support my adoption process and leave, but they have also been very caring and accommodating of our home lives during COVID. If anyone is ever feeling like they are not being supported, just reach out to someone. Talking and sharing helps solve issues quicker and there is always somebody you can lean on.