Trish Hepworth, Director of Policy and Education at the Australian Library and Information Association (ALIA) explores how change and connection are baked into the very nature of LIS. Unlike other related GLAM fields, where objects may be the starting point of a collection, library and information services start with a community of library users. It is in response to their needs that LIS collections are developed and managed.
Every month the Australian library twitter community gathers for a chat. Under the coordinating hashtag #AusLibChat1 the ALIA New Generation Committee (NGAC) throws out questions and the answers roll back in response. October's "ask a mentor" special edition started with the big picture, "What do you enjoy the most about being in the Library and Information Services (LIS) industry and what is your greatest challenge at the moment?".2
As I was in the middle of wrestling with a "thought piece" that was meant to be addressing "critical or emerging issues and challenges for the [LIS] sector", it seemed a good time to tune in, and see what challenges were identified by a group of engaged LIS practitioners, from senior leaders through to emerging students.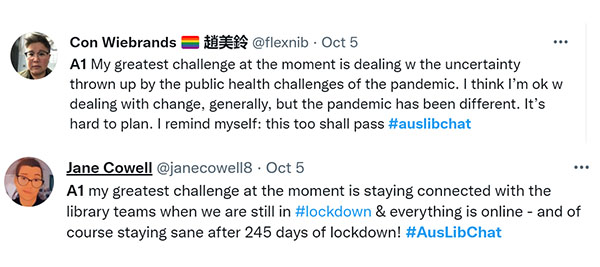 While the pandemic loomed large in peoples' answers, it wasn't the virus itself that people reflected on. It was rather the impact the pandemic had on two issues, change and connection.3 Notwithstanding the severe impacts of the pandemic, from closing physical locations to upending the higher education system, these two challenges (or opportunities) are evergreen in the sector, expounded in LIS "think pieces" before "think pieces" was a term in common use.4
Change and connection are baked into the very nature of LIS. Unlike other related GLAM fields, where objects may be the starting point of a collection, library and information services start with a community of library users. It is in response to their needs that LIS collections are developed and managed. It is their access, use, and value that we measure. And as library users and the information ecosystem in which LIS communities exist change5 so too must library and information services.
Although the instructions for this piece specifically asked for my thoughts on "key directions and action" to "solve this problem", connections and change are integral to LIS, not a problem to be solved. So rather than a "solution" I offer two thoughts about things to strengthen our ability to anticipate and meet the changing needs of the community and strengthen connections. They are core values and ethics, and flowing from that, the kindness in connection.

The "why" is critical to library and information services, "our work in libraries must be directed to benefit not only the communities we serve, but also every single member of that community and the wider society."6 Fundamental values of the LIS sector, such as free and equitable access to information, give meaning to people's work and they make a positive impact on people's lives. As the International Federation of Library Associations (IFLA) point out, libraries play a role in achieving each and every sustainable development goal (SDG).7 Ethics and values also prompt change when we haven't changed enough, for example recognising our responsibility to ensure culturally respectful services to Aboriginal and Torres Strait Islander people.8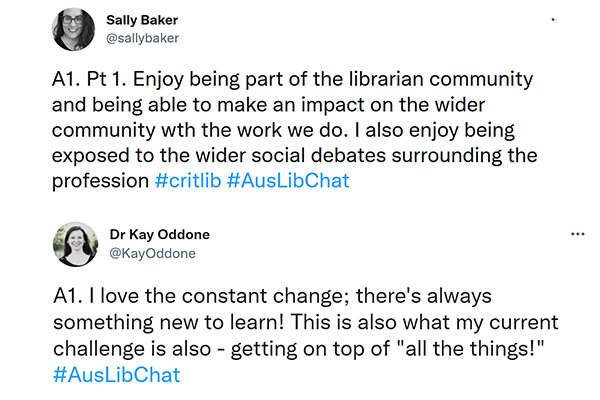 Values and ethics are important to support and guide our ability to change. Research shows that in order to neutralise peoples' resistance to change, effective leaders can emphasise the stability in the "who we are", making the vision of "change also a vision of continuity."9 With the LIS sector attracting new, diversely talented individuals into a constantly changing ecosystem ALIA's Professional Pathways Initiative is working to ensure a sector-wide understanding of the values, ethics and policies which distinguish the LIS profession from other fields, promoting these as a core element of professional identity.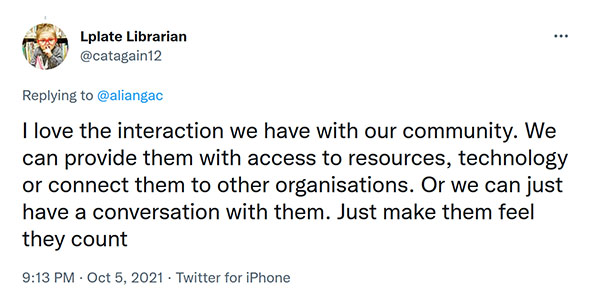 Turning from the "why" to the "how", the pandemic, and in many states and territories a number of lockdowns, have taken an emotional toll on many people and broken routine connections at work and in the wider community. How then to rebuild? One ingredient to consider is kindness. Old fashioned, a bit dowdy, kindness has been shown to be the factor that sets successful relationships apart from disasters.10 We know that "cooperative behavior cascades in human social networks"11 or to put it more simply, when you are kind to someone, then they are more likely in turn to be kind to another, and overall society improves. In his recent book "The Kindness Revolution" social psychologist Hugh McKay muses that if we should "never waste a good crisis" then "if we dare to dream of a more loving country ….12 each of us must live as if this is already that country." Kindness and connection to each other and to wider community in our "how" is the practical implementation that supports our "why" and gives us the best shot at the greater good.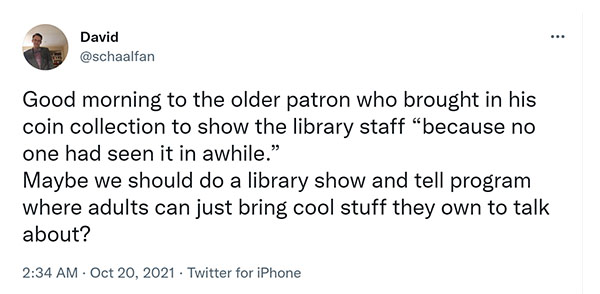 Author's note:
In 2020 ALIA launched the Professional Pathways initiative, to ensure Australia has a diverse, skilled, valued and supported library and information workforce delivering quality library and information services that anticipate and meet the needs of the population. This work is ongoing and welcomes input. Please contact trish.hepworth@alia.org.au if you'd like to hear more or provide feedback or suggestions.
I would like to thank Drs Gill Hallam and Phoebe Weston-Evans for their extensive research and conversations on related projects which have supported this piece in numerous ways. Any short-fallings are entirely mine.
---
References
1 For the importance of using camel case and other guidelines to making sure that social media is accessible, Vision Australia has a handy guide How to make social media accessible, our top three tips
2 Highlights of the conversation have been extracted using the wakelet app and are available here https://wakelet.com/wake/ruP-JHuC_xcTlre5Q7IB1
3 See for example Australian Library and Information Association (2021) LIS education, skills and employment trend report 2020 https://read.alia.org.au/alia-lis-education-skills-and-employment-trend-report-2020
4 The Oxford English Dictionary traces "think piece" back to 1936, see Haglund D (2014) Why "think piece" is pejorative Slate. Accessed from https://slate.com/culture/2014/05/think-piece-definition-and-history-roots-of-the-word-show-it-has-long-been-pejorative.html
5 Gunilla Widén and Maria Kronqvist-Berg (2014) The Future Librarian: A Diverse and Complex Professional, Proceedings of the IATUL Conferences. Paper 7. Accessed from https://docs.lib.purdue.edu/iatul/2014/plenaries/7
6 Gorman, M. (2015). Our enduring values revisited: Librarianship in an ever-changing world. American Library Association
7International Federation of Library Associations and Institutions (IFLA). (2016). Access and opportunity for all: How libraries contribute to the United Nations 2030 Agenda. https://www.ifla.org/files/assets/hq/topics/libraries-development/documents/access-andopportunity-for-all.pdf
8National and State Libraries Australasia have made their resources Culturally Safe Libraries: Working with Indigenous Collections freely available from https://www.nsla.org.au/index.php/resources/cslp-collections
9Venus M, Stam D & van Knippenberg D (2018) Research: To get people to embrace change emphasise what will remain the same, Harvard Business Review, accessed October 2021 https://hbr.org/2018/08/research-to-get-people-to-embrace-change-emphasize-what-will-stay-the-same
10Smith, E (2014) The Secret to Love is Kindness The Atlantic https://www.theatlantic.com/health/archive/2014/06/happily-ever-after/372573/?fbclid=IwAR03hPL6YmY62XcDuSjXOtx58fy_3YFnbc06Ls8wEIdyC6lwvk8aIC2-fFg
11Fowler J & Christakis N (2010) Cooperative behavior cascades in human social networks Proceedings of the National Academy of Sciences DOI: 10.1073/pnas.0913149107
12McKay H (2020) the Kindness Revolution Allen and Unwin, Sydney. p245
---

This work is licensed under a Creative Commons Attribution-NonCommercial 4.0 International License.