Take advantage of the cloud and transform IT services, security, and performance.
Cloud computing offers many advantages, including reduced infrastructure costs and a more resilient and scalable environment. But for organisations in the public sector, security and compliance concerns may be seen as barriers to migrating critical applications of the cloud. Our fully managed Secure Managed Cloud lets you take advantage of cloud, confident that your critical data and applications are secure and protected at all times.
Why choose Civica Cloud Solutions
Assured and certified to host business critical applications and data
Your data hosted by Civica in Australian data centres
Secure Managed Cloud with confident high levels of availability, security and performance
Security to count on in Australian data centres
Secure Managed Cloud solutions are hosted in our own secure Australian data centres and offer a choice SLAs. Our data centres are certified as:
Sector organisations with IL3, PSN or IGSoc N3 data security requirements
ISO 27001, ISO 9001, SSAE 16/ ISAE 3402 SOC 1 Type 2 and UTI Tier 3 standards
Our range of cloud solutions
Civica provide an extensive range of cloud and managed IT solutions.
Public Cloud

Designed for self-managed, non-critical, lower risk data scenarios and providing you with the opportunity to outsource the costly maintenance and support of your IT infrastructure to industry experts.
Secure public cloud

Organisations are increasingly under pressure to deliver a cloud first strategy. Through the Secure Public cloud solution, you leverage a shared platform that reduces risks, manages costs and drives efficiencies.
Secured Managed Cloud

Public sector and regulated industry organisations find security and compliance concerns as key barriers to migrating critical applications to the Cloud. That's why Civica has introduced Secure Managed Cloud – an ultra-secure managed cloud infrastructure that's certified to the highest standards. Civica's Secured Managed Cloud solution is a secure, resilient, shared or private cloud infrastructure with disaster recovery and tailored SLAs.
Hybrid Cloud Solutions

Civica's Hybrid Cloud Strategy builds your public-private cloud and on premise infrastructure that meets high-level security standards, optimises your hardware, and is flexible enough to change according to your business needs. Individual solutions are certified to ISO 20000, IGSoc, IL3 and ISO 27001 standards, ensuring your critical data and applications are secure and protected at all times.
Cloud Productivity Solution

Civica's cloud solution is secure and reliable, and offers high productivity with comprehensive security and simplified IT management. With our established relationship with Microsoft, can give your organisation productivity services with high availability, comprehensive security and simplified IT management. In essence, our proven methodology identifies where you are against where you need to be and maps where you should be in the future - allowing our team to put in place a future proof service plan. We deliver a Cloud Managed Service that accelerates the maturity of your cloud infrastructure and service delivery, within an agreed timeframe.
Data Center Services

Civica works closely with more than 300 Local Government associations across Australia and New Zealand, providing a highly secure environment for efficient reliable and continuous data centre services. This ensures that our clients get the best quality of data centre services such as high levels of security, quality infrastructure and easy integration to business systems. At the heart of our cloud and virtualisation services, are our ISO 27001 accredited data centres, with world class power management, environment and fire suppression technology enhanced by our best practice processes.

We also understand that you may not be in a position to move all your ICT operations to the cloud. So we tailor make the solution to best suit your needs. We offer remote management of on-site infrastructure to virtualization of services and storage in our cloud, so you can progress at your own pace. When it is the critical question of control, you retain as much, or as little, as you deem fit. So while you focus on innovation and optimization, you can be completely at peace knowing that our resilient cloud services will keep working at the back end to support any growth path that you wish to pursue.

Our proven methodology identifies where you are against where you need to be, and maps where you should be in the future - allowing our team to put in place a future proof service plan.
Business Critical Application Hosting

A highly competitive business environment demands the right combination of resilience, priority response and fault monitoring to maintain the highest levels of performance. Having worked with numerous government and educational sectors organisations, Civica creates secure multi data centres, tailoring them to your exact requirements.

Using fixed line and MPLS core technology, our hybrid solutions ensure that applications have high availability at optimum service levels and help to drive down customer ownership and transactional costs; delivering greater return on investment. We will guide you throughout, keep your systems running predictably, and deliver a more competitive advantage to your organisation and business.
IT Managed Services

With the growing number of Digital Transformation projects across private and public sector organisations, it is no wonder that efficiently customised and highly reliable IT services and consulting will be the key to a successful transformation journey. Civica works with more than 500 organisations across the globe, aiming to drive further efficiencies whilst increasing the quality of service and improving user experience. Our partnerships in local government, libraries and educational institutions have yielded phenomenal results.

Civica operates against ISO certified processes and procedures. Our ISO certifications (ISO 27001, 20000, 22301, 14001, 9001) ensure the highest levels of information security, IT service management, business continuity, environmental compliance and quality. This gives you peace of mind, knowing that our security credentials and business processes really are second to none.
Civica's Disaster Recovery Solution

The big payback for emergency preparedness cannot be further emphasised when business as usual comes to a grinding halt. Civica has worked closely with some local Councils such as yours to protect their key assets with services. Starting from devising a stringent continuity plan, disaster recovery priorities and set down the key metrics of impact analysis, Civica has helped many Local Councils protect or recover from crisis in minimal time.

Our consultants work closely with your executives to develop a detailed, tested plan to restore your infrastructure and minimise business discontinuity. With various stakeholders scrutinising the Local Government functions closely, a contingency plan maybe a good start to reputation building quickly in order to minimize interruptions for personnel, suppliers, vendors, partners, investors, and customers. Such fast restoration may not only preserve but also strengthen your council's reputation and professional standing in the community.
Security & Connectivity

With the rise of accessibility comes the threat of theft and virus attacks. IT departments are increasingly challenged to make systems and information easily accessible, and at the same time protect them effectively. Civica designs ISO 27001 compliant solutions that ensure your organisation, its systems and data are not at risk from internal or external threats.
Unified Communications

Local Government faces challenges when it comes to communication technology. More often than not, the legacy systems are not adaptive enough to overcome the constraints of connectivity, security, and control that are associated with integrating diverse UC solutions or extending UC services across networks.

Civica consultants are experienced and skilled in designing and implementing a wide range of unified communication solutions. Combining with tightly coupled session management, border control and service management functions, we deliver to you scalable UC services that are secure and reliable. Working collaboratively, we will design keeping in context the scalability and future rush of technology so that we deliver cost savings and improve efficiency not only today but well ahead in the future.

Our portfolio includes:


Computer Telephony Integration (CTI), including the unique capability to integrate with Civica Contact Manager
PCI compliant integrated call recording
Implementation of Microsoft Lync to replace your existing telephone system, facilitating remote and home working
SIP-based communications infrastructure
Cisco Collaboration, including Call Manager, Contact Centre & Video Conferencing solutions
Call centre quality analytics and training
Interactive Voice Response (IVR)
Onsite Support & Staffing

For schools, we provide a whole school IT managed service to look after your entire IT infrastructure including mobile devices, whiteboards and peripherals. Depending on your requirements we will use a combination of on-site IT staff and a remote team.

Civica will resolve issues under a mutually agreed service level agreement (SLA) and provide your senior leadership team with the technology advice that you need to make strategic decisions.

As a software and services specialist, our advice and recommendations are based upon your needs and budget.
The current state of digital leadership in public sector organisations.
Analysing the barriers and challenges of leading in a digital-first economy.
Read the report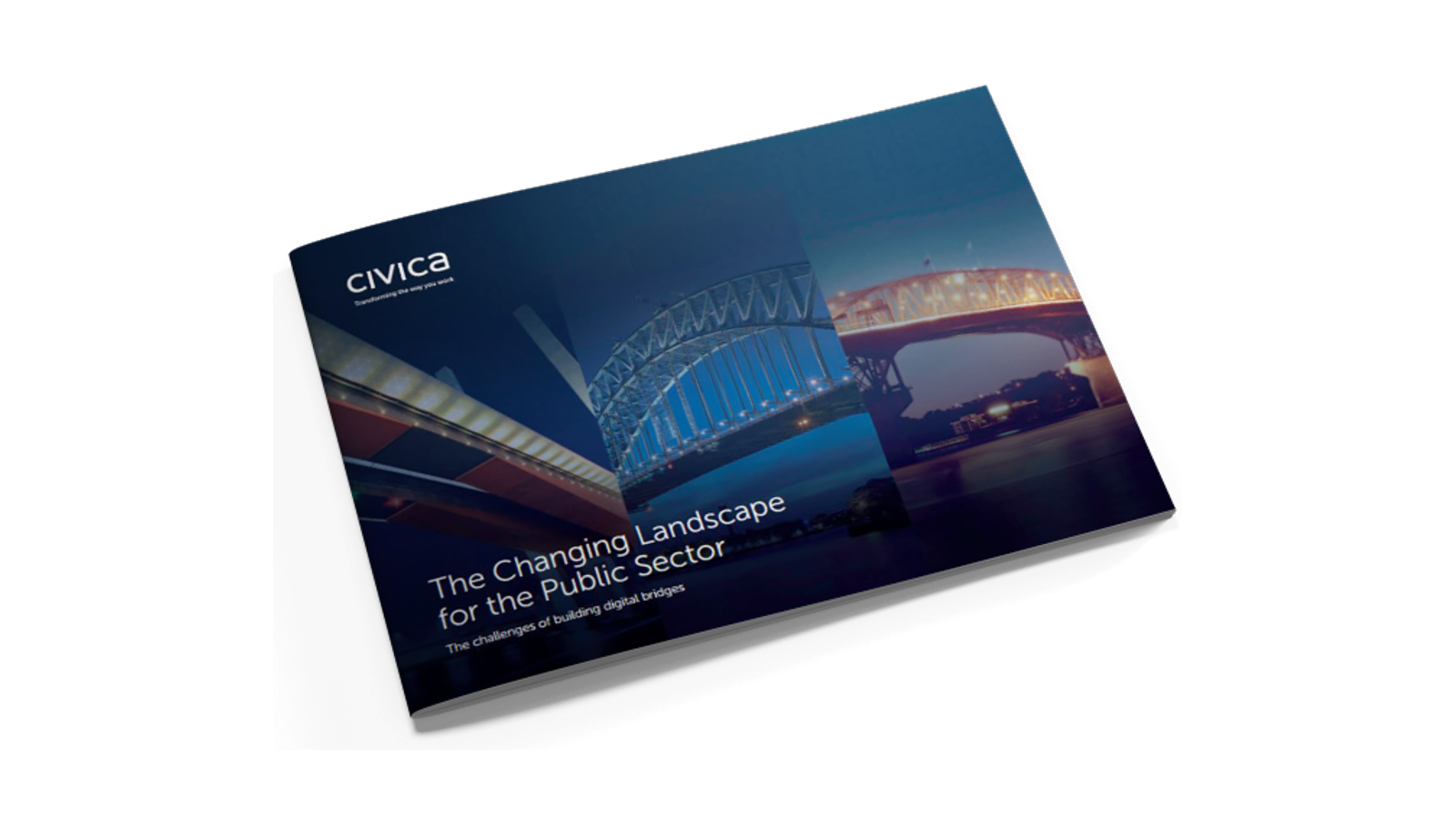 Find out more about how Civica can transform the way you work