Nick Arnold
Consulting Arborist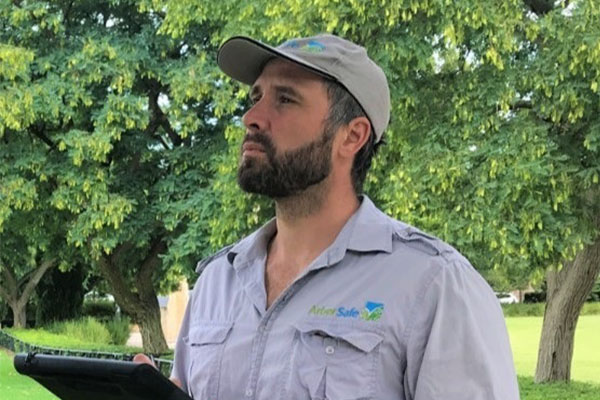 Nick Arnold is a consulting arborist with Civica's latest acquisition company, ArborSafe. The ArborSafe team provides tree assessment and risk management services to a huge range of organisations in Australia through expert advice and world-leading tree management software.
Nick is just one of the team's employees passionate about trees (they all are!), and he takes every opportunity to promote their benefits as intergenerational assets creating healthy, long-lasting tree populations for a cleaner climate and a better world. So for National Tree Day, August 1, he didn't hesitate to give key client the University of WA call and lock in a tree planting activity with the team. Here is what he has to say about planting trees, and being an arborist at Civica:
It's a holistic approach to the relationship we have with our customers and their trees
Historically, commercial arboriculture has been heavily guided by the perceived risk posed by trees. Across large treescapes - where there is interaction with people, it is inevitable that trees will occasionally require removal. It is important that such trees be replaced in order to prevent the denuding/degradation of urban landscapes. From a Civica perspective, being involved in tree planting projects represents the more holistic aspects of tree management and promotes a full circle approach to the relationship we have with our clients and their trees.
The team at UWA have been working through their own challenges - as have so many of our clients - associated with shifts in university enrolment and spending. As such there is increasing pressure on budgets but still an overwhelming desire to maintain and enhance horticultural standards within the UWA grounds. Our tree donation was a very welcome gesture which complements so much of what we are trying to achieve as a business whilst supporting the UWA team in their efforts to enhance the university.
Technology has helped us become leaders in our field
As with the broader software and geo mapping industries, things move very quickly. Our investment in technology and software development in the form of our flagship product ArborPlan has allowed us to become leaders in the field of tree mapping, risk assessment and management. The challenge is to understand and deliver on evolving client and industry expectations. I am excited about the release of our newest application, C My Trees (free for personal use in the app store!), which is indicative of the growing interest in energy and carbon offsetting, and the need for modern business to be able to report and understand their own environmental credentials.
My own challenge is to make tree preservation a priority in people's minds and actions
As with so many worthy causes, the challenge is exposure, understanding and promoting the cause of sustainable tree care - to make it a priority in people's minds and actions. This is not always easy, but as an individual I try and positively impact those that I work with, as well as friends and family. I promote sustainable tree care as a cause and as something tangible that we can all be involved in. As awareness of the environmental challenges facing us all becomes more apparent, I think tree planting and preservation will gain importance.
Planting a tree may be the longest legacy some of us leave
Planting a tree may be the longest legacy some of us leave - and you don't need to be an arborist or in a tree business to do it. It is also a great way to get out of office and get some exercise and fresh air! We're brand new to the Civica family and I would love to see next year, with a little planning and no COVID restrictions, more Civica leaders and teams get out and plant trees with some of our key clients. This is a great gesture of support for not only our fantastic clients, but also as acknowledgement that every single one of us can play a part in preserving our environment.