Kelly Gibbs
Product Specialist for Libraries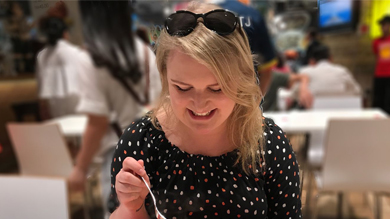 What does your typical day look like?
We're still working from home full time, so it's coffee, emails, and then I start my work day. At the moment my day is split between working on product, with our teams internally, and engaging with customers directly (which I love). I'm super lucky to live right at the start of a beautiful beachside park so I usually end the workday with cycling, boxing, and recently yoga in the park with friends.
What inspired you to take up a career in tech?
Other women in tech who believed I was capable of picking up skills I had never even considered for myself.
Why is it important to support women in STEM?
Because for me, working in tech was never even a consideration when I was young, and was not an option that was presented to me through the earlier years of my tertiary education. Through elevating the visibility of women who work in tech, science, and other STEM fields, we can show young girls that it is an option for them and hopefully bring them into the field earlier.