Join Horizons Graduate Programme and unleash your potential
At Civica, we believe in investing in the future. It is the reason why we're always looking for bright young minds and passionate people to join our Graduate Programme and contribute to our continued growth.

Kick start your career at Civica
Explore a world of opportunity and see how our Horizons Graduate Programme can enhance your career. Through structured learning, hands-on projects, continuous feedback and supportive colleagues, the Programme will give you the chance to grow and have impact in your chosen area.
Our Horizons graduate programme lasts for 12 months and is specifically designed to support your learning and development, to unleash your potential and build the foundations of a successful career!
Why join the Horizons Graduate Programme?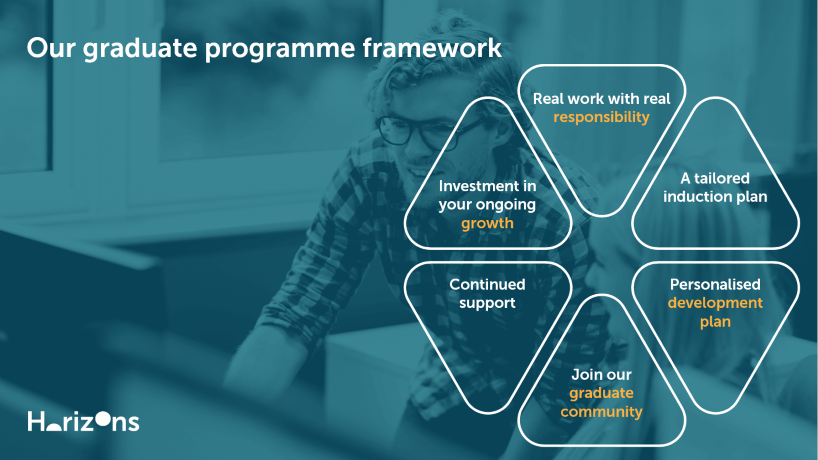 Real work with real responsibility: when you join our Horizons graduate programme, you will have the opportunity to work alongside colleagues in various stages of their careers, and encouraged to share your thoughts, recommendations and opinions. You'll be assigned important projects, and have an impact from day one.
A tailored induction plan: our induction programme for our graduates is tailored specifically to recognise the additional key contacts you need to meet, introduce you to the business, and of course, set aside some time for some fun!
Personalised development plan: at Civica, we don't believe in "one size fits all", which is why your development plan is tailored specifically to you! The plan will reflect your goals, interests and strengths, and align these to key learning and development activities, to support the achievement of your key milestones. The plan is flexible and changes as your needs change.
Our graduate community: Be a part of our graduate community where you meet your fellow graduates, senior graduates and get the opportunity to network, learn from each other, share common experiences, and have some fun!
Continued support. You will drive your development, with regular access to business leaders for coaching and advice. You will also be assigned a mentor and buddy, who can offer guidance and support. While there are plenty of learning tools in place, you'll benefit most from the people around you.
Investment in your ongoing growth: in addition to your personalised development plan, we have a series of initiatives to ensure you have plenty of learning and development opportunities to fuel your success, including project work, training courses, and certifications.
Four great reasons to choose Civica
Build a real career with real responsibility
Join a company with a global presence and over 16 years of unbroken growth
Contribute to a distinctive culture, brought to life by more than 4,100 employees
And plenty of fun along the way!
Proud to be a Glassdoor 2019 employees' choice best place to work
Civica ranked 25 out of 50 on Glassdoor's UK list.
Read more